GRAND RAPIDS, Mich. — Wednesday night marked the end of a Powerball jackpot that had not been won since September 2020. The winning ticket, a single ticket in fact, was sold to someone in Maryland who is now $731.1 million dollars richer.
The Mega Millions jackpot remains up for grabs and is estimated at $970 million dollars for Friday's drawing.
So, with such large jackpots, and such a long time between winners, the phrase "I'd get struck by lightning before winning the lottery" is one that you might hear around the ticket counter as customers still buy tickets hoping for their chance.
Little do they realize, mother nature agrees with that statement, and agrees rather substantially.
Whether it is being struck by lightning or winning the lottery, everything comes down to a numbers game.
For the lottery let's take a look at the Powerball, Mega Millions, and the Michigan Lottery Lotto 47. The odds break down as follows.
Winning the Powerball: 1 in 292,201,338
Winning the Mega Millions: 1 in 302,575,350
Winning the MI Lotto 47: 1 in 10,737,573
Now let's take a look at some odds that mother nature could throw your way. These might leave you passing on that next lotto ticket, or even going outside.
Each of the odds below includes a link to our sources.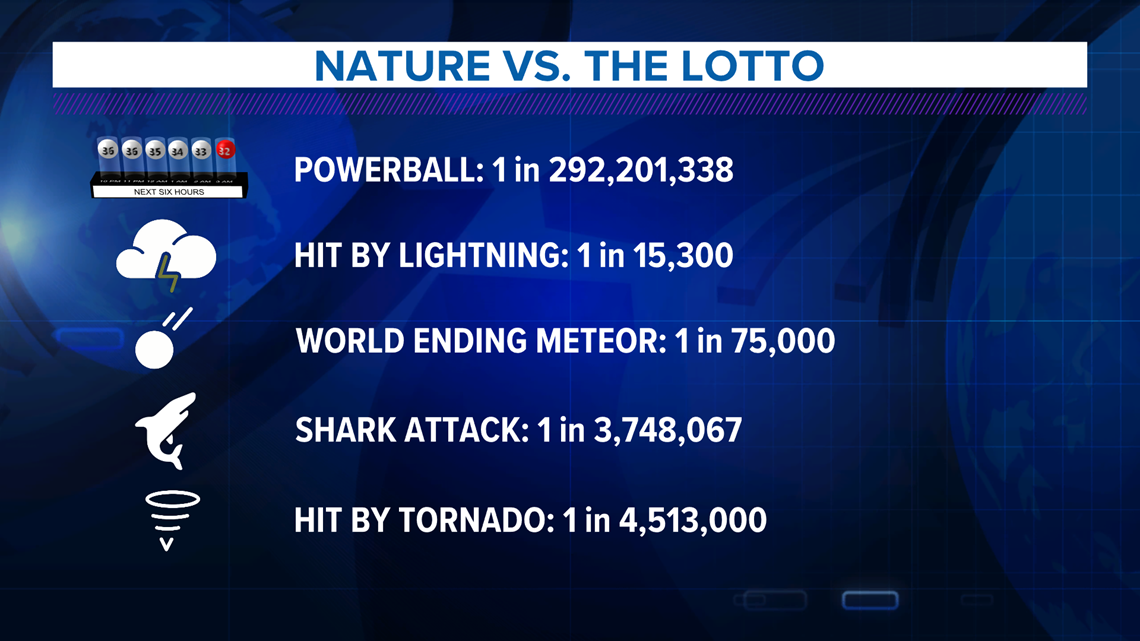 Comparing to the Powerball jackpot that was just won, you are roughly 19,098 times more likely to be struck by lightning, around 3,896 times more likely to see the world end via a meteor, almost 78 times more likely to be attacked by a shark, and about 65 times more likely to be hit by a tornado.
At least the good news is you can lessen your odds of being adversely impacted by mother nature through good weather/outdoor safety practices (except for the meteor) and hey, someone has to win that money, right?
-- Meteorologist Michael Behrens