KNOXVILLE, Tenn. — Summer just won't go away.
By early October, when we should be enjoying cooler weather, wearing our favorite fall clothes (boots!), and sipping a pumpkin spice latte, we are instead sweltering in what seems to be a never-ending heatwave.
As of 5 p.m. on Thursday, Oct.3, we hit 96 degrees. That's the fourth day this week that temperatures soared to the mid-90s and broke single-day records. The sweltering heat also marked the highest temperatures we've ever seen this late in the year on record.
We also tied the new all-time record high of 96 degrees for the hottest day ever in Knoxville in the month of October that we broke with the same temperature on Wednesday.. That record was just a day old since we hit 95 on Tuesday, and that shattered the old record set all the way back in 1884.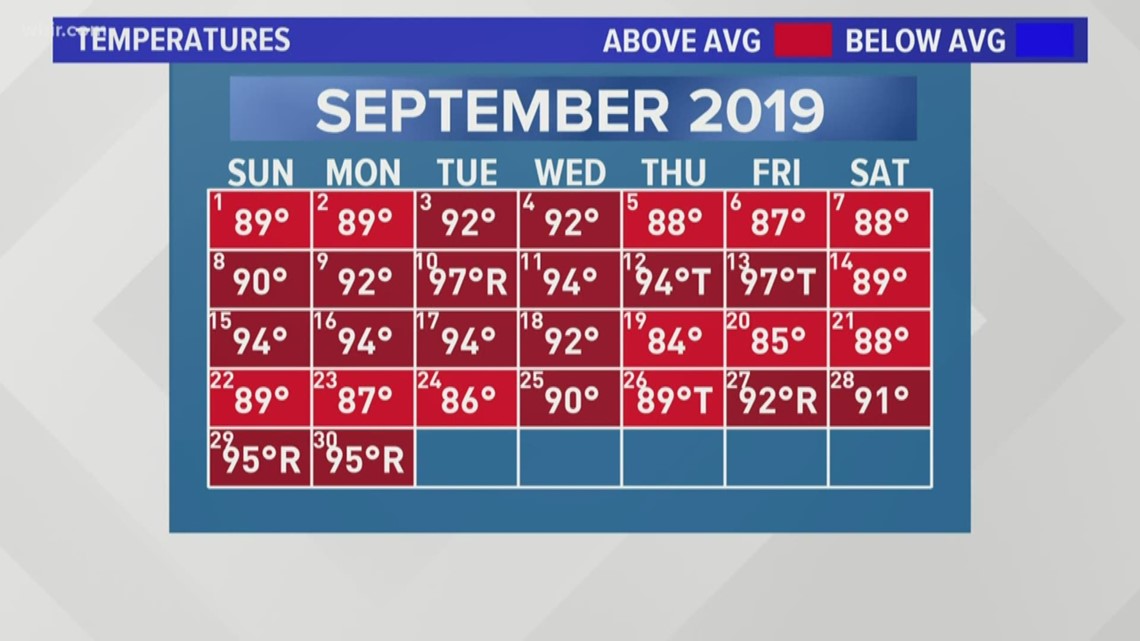 Of course, this comes as no surprise to hot weather-weary East Tennesseans, who just sweated through the second-warmest and driest September ever. On every day in September, we saw above-average temperatures, with 17 days in the 90s and we either broke or tied heat records on seven days.
For the record, it was 87 degrees on Sept. 23, the first official day of fall. That was nice.
The record heat also broke records for TVA. A spokesperson said the daily average peak load across the system was 26,258 megawatts for all 30 days. That's the highest average peak load for any September in TVA history.
There were nine days in September with demand over 28,000 megawatts, and that's also the most in TVA history.
"We've only been above 28,000 Megawatts once in October, on Oct. 8, 2007, when we reached 28,601 megawatts," according to TVA spokesperson Scott Brooks. "We are forecasting peak loads above 28,000 through Thursday, and could see all-time October peaks Wednesday and Thursday."
To add the misery of the heat, most places have barely seen a drop of rain in weeks. The entire state of Tennessee is covered in abnormally dry conditions and now 67% of the region is in a moderate drought. Severe drought conditions are expanding as well. Last week, nearly 2% of the state was under severe drought, but now nearly 16% of the state is.
So yeah, we're really ready for fall. We're expecting the heatwave will break by Friday, and we're hoping for the 70s next week!