The same strong weather system that brought us heavy rain and thunderstorms on Saturday will give us a taste of winter today.
Despite the fact that many locations had highs in the 60s on Sunday, colder air has moved into the region and we are seeing snow in the higher elevations.
A Winter Storm Warning is in effect for the Mountains of Monroe County, Blount County, Sevier County, Greene County and Cocke County through 7 a.m. on Tuesday.
FORECAST: A cold and blustery day with the best chance for snow in the higher elevations
WBIR
RELATED: Foothills Parkway East and West, along with Newfound Gap Road to close Sunday ahead of snow and ice
The National Weather Service also issued a Winter Storm Warning for Harlan County, Kentucky that will last until 7 a.m. on Tuesday.
Moisture wrapping around the back side of a strong low-pressure system will bring snow showers to the higher elevations.
The locations that have the highest chance to see accumulations will be in the "horseshoe" of the Plateau, Southeast Kentucky, Upper East Tennessee and the Foothills and Smokies.
**You can check out the latest school delays and closings here**
RELATED: Winter Weather Outlook: The 'Horseshoe Effect' plays a key role in why some areas see more snow than others
Photo: December snow in East Tennessee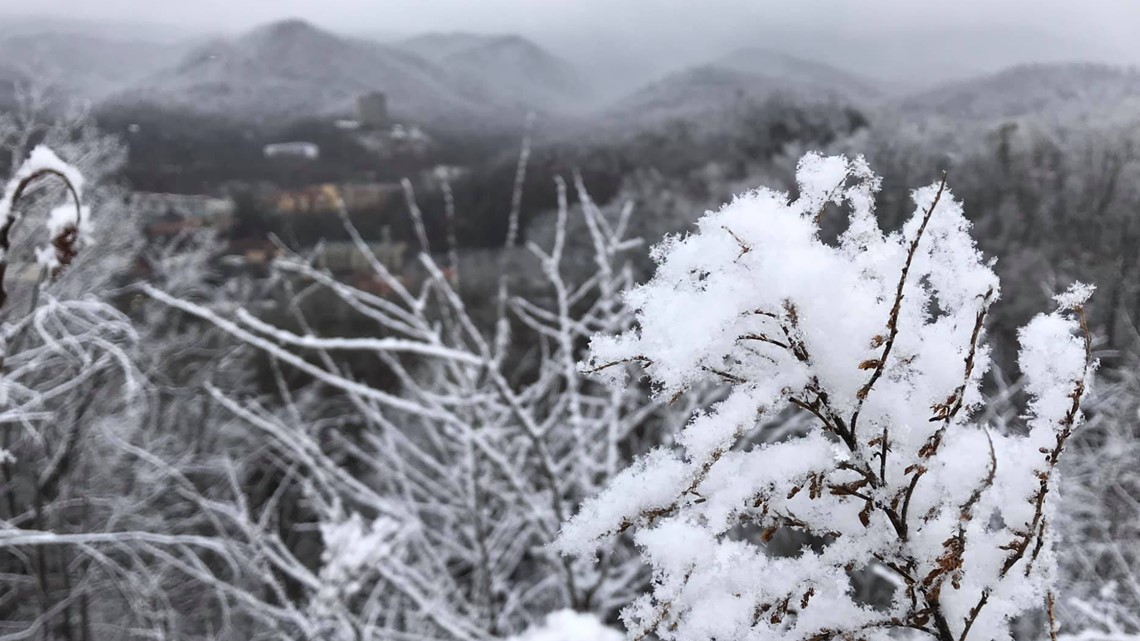 Accumulations will mainly be on grassy or elevated surfaces on the Plateau and from Morristown, Jefferson City and Dandridge northward in the Valley. However, there could be a few slick spots on the roads.
Areas from Knoxville southward in the Valley may see some flurries or a rain/snow mix and only a short-lived dusting is expected on grassy or elevated surfaces. No travel impacts are expected in the Central and Southern Valley.
RELATED: How does TDOT prepare when winter weather is on the way?
Totals could be up to 3" in parts of Southeast Kentucky on northwest-facing slopes of the Cumberland Mountains and roads may become slick in these areas.
The Foothills could see 1"-3" of snow with a few slick spots possible.
WBIR Weather
The highest totals will be above 3000 feet in elevation. This will be where we expected to see the greatest potential for travel impacts.
There will be a sharp increase in snow totals as you go up in elevation and the highest peaks of the Smokies could see 5"-9" of snow.
Gusty winds will also create drifts that may be deeper than 12". Wind chills in the teens and single digits will also create dangerously cold conditions in the Smokies. Please avoid going to these areas until conditions improve!
Please check back for updates to this forecast!!!