KNOXVILLE, Tennessee — 4:30 p.m. Monday UPDATE:
KUB has restored power to nearly all customers minus about 50 individuals spread out across the outer rural areas of Knox County, but larger outages persist in rugged parts of Sevier and Cocke Counties that are impacting thousands.
Sevier County Electric System reported 1,768 customers without power as of 4:15 p.m. Monday as crews continue to work around challenges from wet soil and rugged terrain. Most of the outages were reported across the more remote sections of the foothills outside Sevierville, Pigeon Forge and Gatlinburg.
Staff at the Sevier County Humane Society had been without power since Christmas Eve before it was restored Monday, where indoor temperatures dropped dangerously low into the 30s. Workers used blankets and towels to keep animals warm for the four-day stretch as others helped house the more vulnerable animals.
The Knoxville Utilities Board said that around 500 customers were still without power Sunday evening in the area after 31,000 customers lost power following a snowstorm in East Tennessee.
They said more than 75 crews worked during the day Sunday, and that 20 crews would continue working overnight. They said that crews faced several challenges Sunday, due to melting snow and wet soil. The conditions have caused more damage from trees and limbs, creating 75 additional outages.
The Sevier County Electric System said that 5,471 customers still did not have power Sunday evening.
The Knoxville Utilities Board says there are still about 770 outages in the area. In a tweet, KUB said crews are working to repair electric poles and lines that were damaged during the snowstorm on Thursday.
The Knoxville Utilities Board said a little more than a thousand customers remain in the dark following last week's storm. KUB said there will be at least 75 crews out today to continue to restore power.
According to KUB, most customers who remain without power will be restored before midnight tonight. KUB said some customers will remain without power until Monday.
The Knoxville Utilities Board said that crews made progress Saturday night and will continue working throughout the evening. Officials said that they will have help from 12 contractors across the East Tennessee region. Outages were reduced to 2,245 in the area.
"Thank you again to all our customers for their patience during this holiday event," they said on Twitter.
The Sevier County Electric System said that there were still 10,655 people without power in their coverage area.
4:15 p.m. Saturday UPDATE:
Officials with the Sevier County Emergency Management Agency said Saturday that electric crews from surrounding states arrived in Sevier County to assist in restoring power.
However, they warned residents that power could be out for another 24 - 48 hours.
They said that if residents could travel safely, they should consider finding alternative accommodations if they do not have a safe heating source.
Residents were also asked to help clear private roads around their property if they were able to. Officials said that it would help allow emergency personnel to pass through onto main roadways and help power get restored faster.
In Knox County, the Knoxville Utilities Board said crews were still working to get the remaining 2,467 customers without power back online. They said that they would work the rest of the day and night until power was restored.
Newport Utilities also said that they were continuing to restore power across their coverage area. They said that outages were down to around 2,400 as crews started repairing power in areas downed poles and trees,
They said repairing power in these areas will take a lot of time since it takes 6 - 8 hours to set up a new pole. Extra crews were helping with their efforts from surrounding utilities, they said.
The Knoxville Utilities Board said it is continuing to restore power across the area. KUB said more than 3,000 customers now are without power, down from some 8,000 on Friday afternoon.
KUB said there are around 60 crews are working, including assistance from Lenior City Utility Board and Appalachian Electric Cooperative, crews from Nashville and Jackson, and crews from Alabama, Kentucky, and North Carolina.
KUB said it expects restoring power will last into at least Sunday due to the heavy, wet snow and freezing temperatures causing additional limbs and trees to fall.
The Sevier County Emergency Management Agency said another issue the agency is facing while trying to restore power is that some of its phones aren't working. The agency said some of its phone lines are down due to the explosion in Nashville Christmas morning, which damaged to an AT&T transmission building.
Sevier County Electric's outage map shows about 11,900 customers still without electricity in its service area as of noon Saturday.
7:45 p.m. Friday UPDATE: The Sevier County Emergency Management Agency said that they were working to set up emergency shelters for people who did not have power overnight. However, officials also said they had trouble due to a lack of power.
The Sevier County Electric System said that 15,237 people were still without power. The number fluctuated several times as the night went on.
The Knoxville Utilities Board said that 5,666 customers were still without power Friday night. Most power outages were located in southern Knox County.
5 PM Friday UPDATE: Crews in Knox and Sevier counties have much more to do before they can fully restore power to customers, the utilities said Friday night.
KUB said it'll be until at least Sunday before 7,000-plus households get electricity. Sevier County Electric said Friday it expected it'll take several days there, where some 16,000-17,000 customers lack power.
If you haven't gotten power back by now, it'd be best to seek alternative housing arrangements for the night, KUB said.
Downed trees, downed lines and slick, hilly roads make fixing the lines harder.
"KUB will continue to assess damages, clear trees and debris, and mobilize crews and resources around the clock to facilitate power restoration to all impacted customers," a KUB 5 p.m. update said.
It continued: "Crews have had challenges accessing the lines due to the number of downed trees and other damage. Even getting to the job has been difficult in some cases where snow and ice has made travel treacherous. Every job is different, but a typical repair job can take up to 4-6 hours. Replacing a pole can take a minimum of 6-8 hours. Given these challenges, a definite time frame for restoration of specific areas is not available."
Crews will work into the night to restore power. Additional contractor and utility crews are coming from nearby states to help, according to the utility.
Noon update: At least 25,000 people remained without power in Knox and Sevier counties as crews continued working to restore electricity lost in Thursday's night sudden, heavy snowfall.
KUB's outage map showed a little less than 7,800 people still without power in their service area. Sevier County Electric showed some 17,500 without power there.
10 a.m. update: Knoxville Utilities Board said more than 45 crews were working Friday morning in its service area to restore power to households without electricity.
KUB's outage map shows some 8,000 customers don't have power. At one point Thursday night, more than 15,000 were without power.
Parts of Kodak were among the areas, and KUB said Friday morning it had someone en route there. KUB's map showed some 200 to 500 customers in that area had lost power.
Icy, snowy roads are making travel difficult. KUB said crews will continue to work throughout the day to store power to affected customers.
8:30 a.m. update: With temperatures below freezing, Sevier County Electric System reported more than 16,000 customers still without power.
Allen Robbins with Sevier County Electric, spoke with WBIR on Facebook Live, himself without power at home.
"We are so hindered in getting additional help at this moment, it could take days [to restore everyone's power,] Robbins said.
"If you can at all, get out and seek some alternate shelter."
Trees are still down and roads are icy. If you don't need to leave your home, officials urge you to stay put.
Those same bad road conditions are making it difficult for crews to restore power quickly. Robbins says it could be days before all lines are back in service.
At 8:30 a.m., KUB reported just fewer than 8,500 customers still without power.
Watch our 8:15 a.m. conversation with Sevier County Electric System here.
Thousands of people lost power Christmas Eve night as the snowfall mounted across East Tennessee.
Just above 9,000 people still remain without power at around 6:30 a.m.
KUB reported that 14,959 people lost power at around 11:30 p.m. Several of those outages were in downtown Knoxville, but several were also reported in
West Knox County and South Knoxville, KUB maps indicated.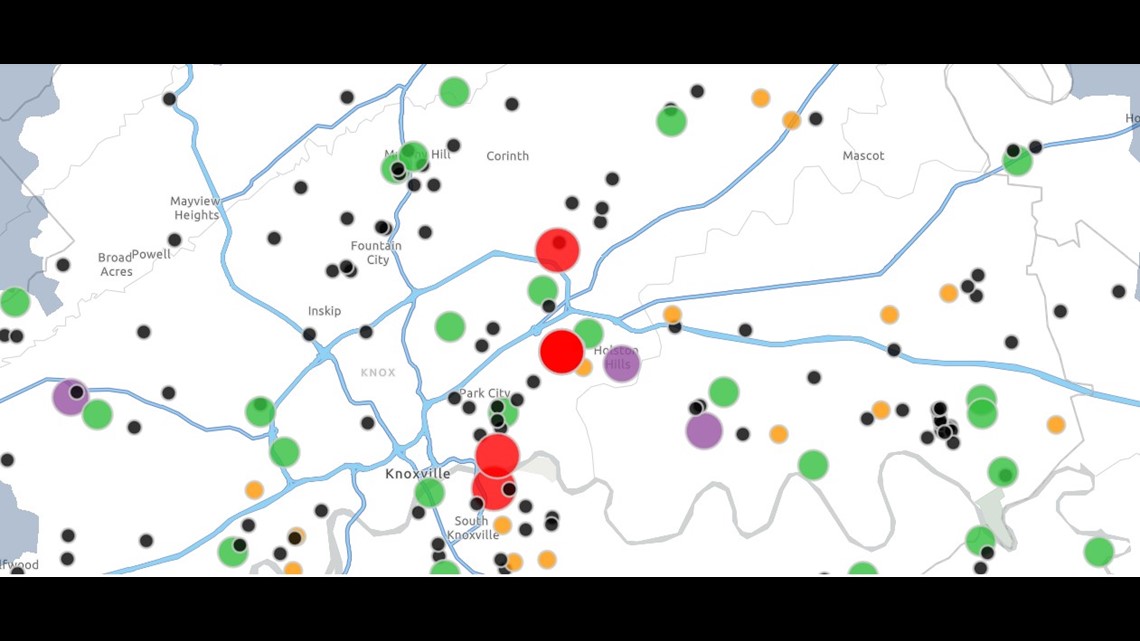 Officials said that they did not have estimates for when the outages were expected to be restored. They also said that road conditions were slowing progress on restoring power to affected customers.
The Sevier County Electric System also reported that 16,206 people were without power at around 6:30 a.m. Christmas morning. That's down from 17,306 at 11:30 p.m. the night before. Many of the reported outages were in the eastern parts of the county, with a significant amount reported in the northwest.
They did not provide an estimate as to when power would be restored.