KNOX COUNTY, Tenn. — In the middle of this week, East Tennessee is seeing a decline in temperatures back to average, but the lows Wednesday and Thursday take a dip into the 30s, which is morning frost territory.
However, it's the second week of spring and nearly April, meaning these conditions will be coming to an end soon. So when can gardeners expect more consistent warmth and how can they save their plants in the meantime?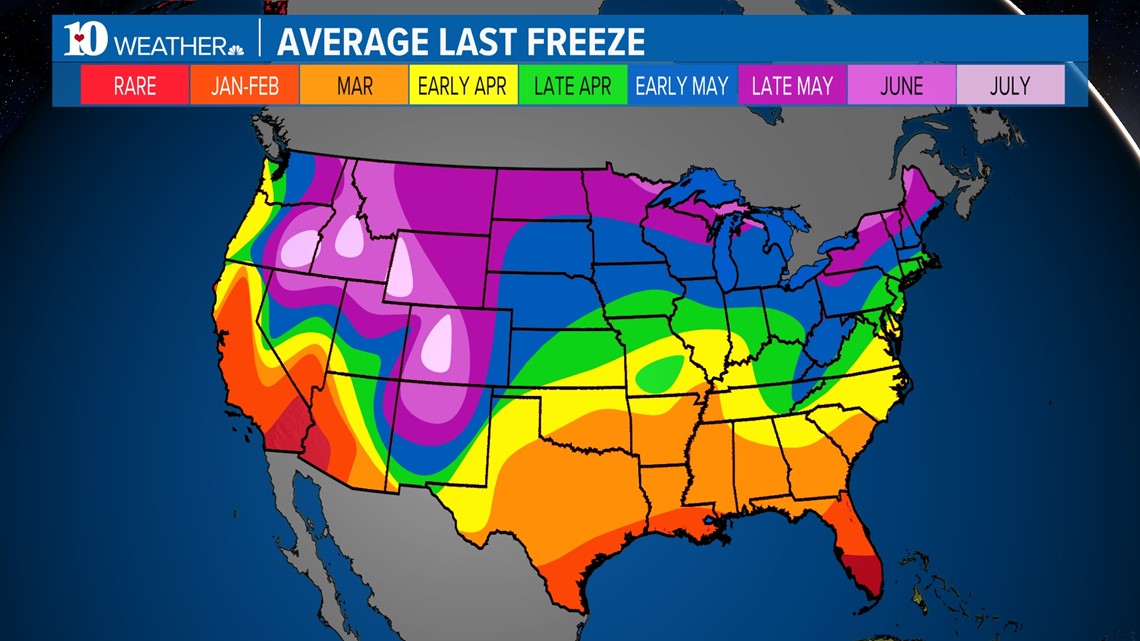 Data shows that in East Tennessee, the last freeze for the Valley and Plateau is in late April (green), or sooner. Higher elevations in the Mountains and Upper East Tennessee could take a bit longer, finally warming up in early May (blue).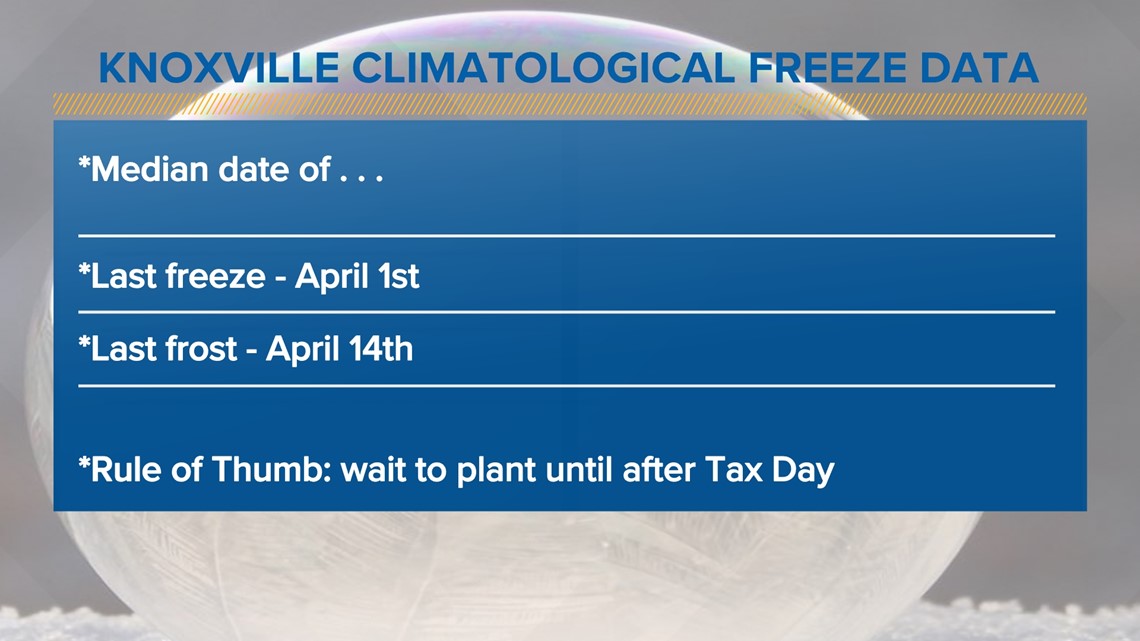 Data from the National Weather Service at Morristown says that, in Knoxville, the median last freeze is April 1 and the median last frost is April 14.
For this reason, many agriculturists and plant lovers say to wait until after Tax Day, April 15, before you start sowing new seeds. In these frosty situations, meteorologists often recommend you protect and cover your plants, but a viewer asked if and how that actually works, depending on the temperature.
The short answer is yes, it works. However, it can depend on how much you bundle your plant babies.
During cold nights, plants lose heat and moisture to the atmosphere, which makes them more vulnerable to the chilly air. By covering your plants, you put a lid on that process, forcing the heat and moisture to circulate and protect the plant.
Here are a few more tips on how to safeguard your flora:
Water your soil beforehand. The extra moisture will help the insulation. Be sure to water just the soil so the plants can utilize it as much as possible.
Use cloth or fabric covers, like a bed sheet or bath towel. You could even use thicker materials like burlap to wrap your plants.
DO NOT put plastic directly on the plants. It'll exacerbate the cold and could cause faster freezing. If you'd like, you could use plastic outside of the more breathable fabric as a secondary layer of protection.
Cold resistance depends on the plant. Some can handle a few days of freezing nights and be fine; for others, it'd be smarter to bring them inside. Look into the hardiness rating of your plants to determine whether they can stand the cold.
Finally, don't forget to remove the covers the next morning. That'll allow your plants to take in fresh heat and sunlight to recover.
Climate predictions say that April should be another warmer-than-normal month, so cover up your garden this time and wait patiently for the warmth.