The Vols' record of 5-0 has both fans and former Vols reminiscing on the team's national championship victory in 1998.
Eighteen years ago was the last time the team started a season with a 5-0 record. The '98 team entered the season ranked No. 10, whereas this year's team ranked No. 9 in the preseason.
Striking similarities between the two seasons have both fans and former players pumped.
"It's déjà vu -- and the way they're winning, even more déjà vu," former wide receiver Bobby Graham said.
Graham played on the championship team in 1998, and remembers the feeling of walking away undefeated.
"5-0 means you just keep winning," Graham said. "You've got to do whatever you've got to do just to win the next game."
With so many striking parallels between the two seasons so far, he's not the only one reminiscing.
Christi and David Weaver, a Knoxville military family, will never forget the historic year. For 18 years, the family has kept the News Sentinel's iconic front-page article of the championship victory framed in their homes.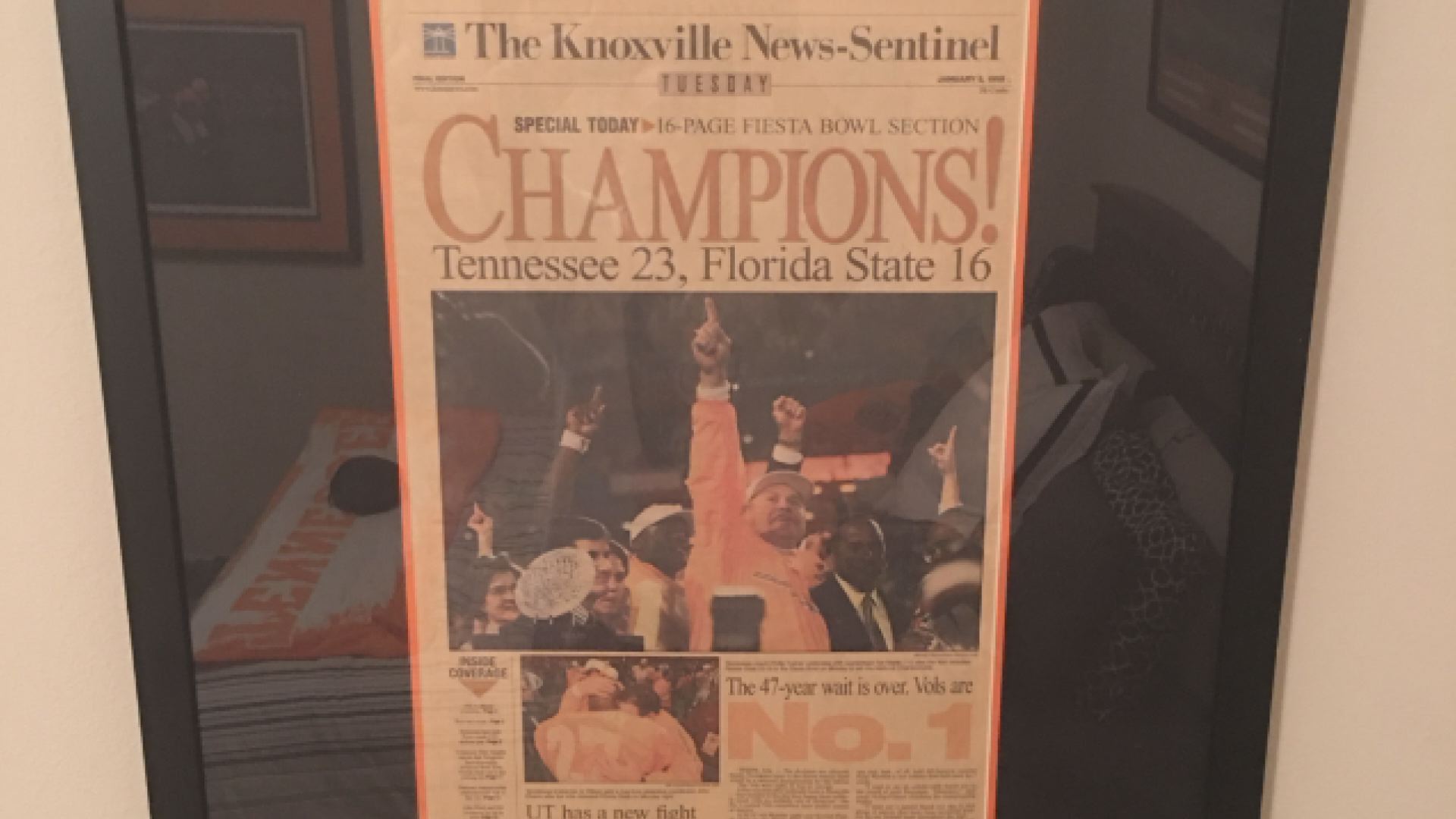 "My in-laws got the paper the day after the game, and mailed it to us in England at the time," Christi Weaver said. "It's been hanging in every location in every house all over the world that we've been in since then."
As a military family, that means cities in England, Florida and the island of Guam. Now it's a symbol of hope passed down to new generations.
"We passed it on to my son, who's also in the military, and it's hung in every house that he's had," Christi Weaver said. "My grandson Knox will get it next."
The framed article, now with her son in Florida, represents a year of excitement and triumph -- emotions they're now feeling anew.
However similar the seasons may feel, Graham said his fellow wide receiver Jauan Jennings has already etched his own name in history.
"If we do end up winning the national champion, or the SEC championship, we're going to look back on this season and say it's because of that Hail Mary catch," Graham said. "He will be forever remembered."