If he'd focused on doing just one thing well, Clarence Brown could have called his 97-year life a success.
But the former Knoxvillian had far too many interests to excel at just one thing.
It wasn't enough to graduate from the University of Tennessee with two degrees at age 19. Or to learn how to pilot his own plane. Or to run his own car dealership as the automobile was coming of age.
Brown had stars in his eyes. He fell in love with film, becoming one of Hollywood's most respected directors from the 1920s-50s and working with some of the industry's biggest stars -- from Rudolph Valentino to Greta Garbo to Clark Gable to Elizabeth Taylor.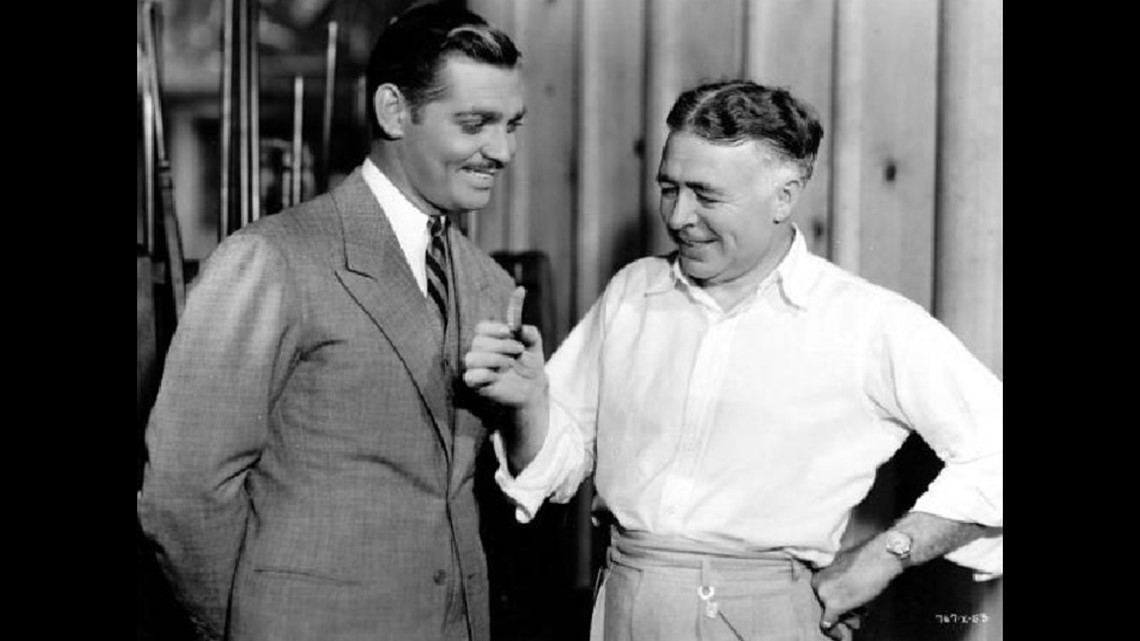 But even that wasn't enough for the six-time Academy Award-nominee.
After stepping away from the motion picture business in the early 1950s, Brown would become one of UT's biggest benefactors. He and wife Marian Brown gave $500,000 to build the Clarence Brown Theatre on campus, and then after Marian died in 1993, the couple bequeathed $12 million to further benefit his alma mater.
In the 20th century, he was known as a movie master. His lasting legacy, however, likely is the gift he left behind in Knoxville.
"I think when you look through his films, then you go, 'Oh, I know that film,' " said biographer Gwenda Young, who wrote "Clarence Brown: Hollywood's Forgotten Master". "He's not forgotten in that sense. His films are there, but the man who's responsible for them may have been overlooked."
Brown is being honored this week in Knoxville with a film festival and career retrospective that includes screenings at the Tennessee Theatre and the UT campus. WBIR is a sponsor of the free event.
Young will deliver a free lecture about Brown as part of the festival 4 p.m. Friday at UT's Hodges Library Auditorium.
Born in Massachusetts in 1890, Brown ended up in Knoxville shortly after the start of the new century when his father became manager of a textile manufacturing company in North Knoxville.
He loved drama. He ended up studying engineering at UT, starting at age 15.
Four years later, in 1909, he could hang two degrees from the university on his wall.
He was restless for more. He learned to fly an airplane and served as an aviator in World War I. For a time he had a car dealership in North Alabama.
But what really caught his fancy was moviemaking. After a journeyman's education with a French filmmaker in the Northeast, he headed to Tinseltown.
He established himself in the 1920s as a go-to director of silent films at Metro-Goldwyn-Mayer in Los Angeles. He gave direction to the greatest stars of the era including Valentino and Garbo.
Notable films of the era include 1926's "Flesh and the Devil" with Garbo and John Gilbert and "The Eagle," in which heartthrob Valentino played a Russian lieutenant who becomes a masked hero.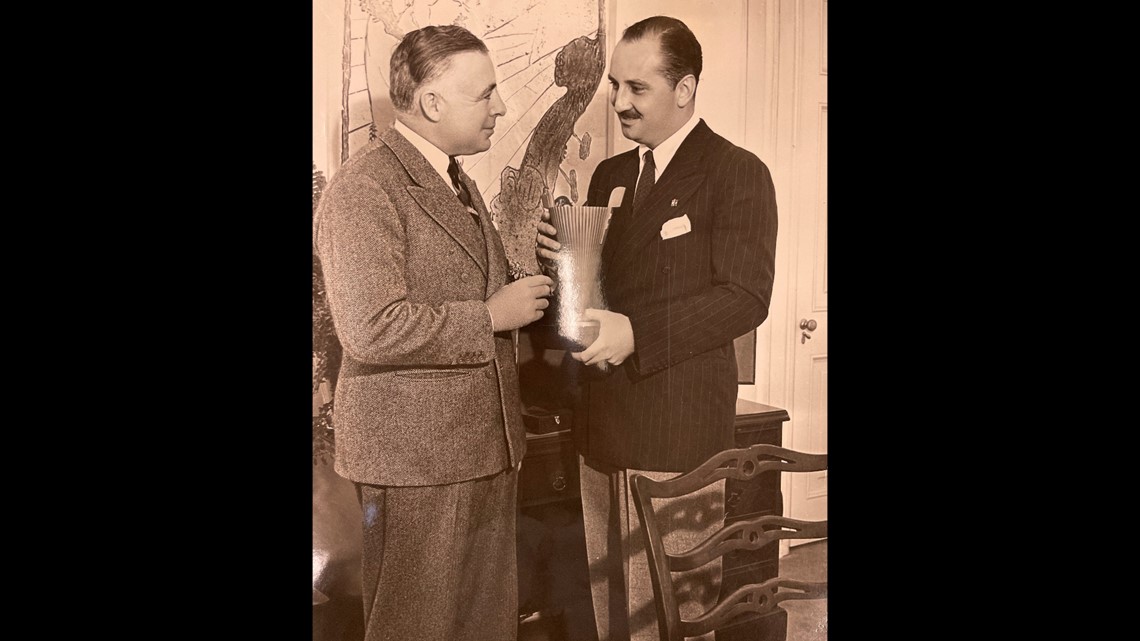 When the talkies arrived, Brown eased comfortably into the new format, leading Garbo in classics such as "Anna Christie" and "Romance". They both earned Oscar nominations for those films; neither won.
He worked with Gable and Crawford numerous times including in the 1931 film "Possessed".
Brown was very much a cog in the studio system machinery, a fact for which he may have suffered in the eyes of critics. He didn't care. He knew his role.
"I was in the business of showcasing stars," he told the Los Angeles Times in 1973.
He got another directing Oscar nomination for "A Free Soul" with Norma Shearer, Leslie Howard, Lionel Barrymore and Gable.
In the 1940s, he scored more nominations for "The Human Comedy", "National Velvet" and "The Yearling".
As a director recognized repeatedly for his work but left empty-handed at Academy Award time, Brown enjoyed lofty company, Young said. Contemporary Alfred Hitchcock made some of the greatest movies of the 20th century but never won an Oscar.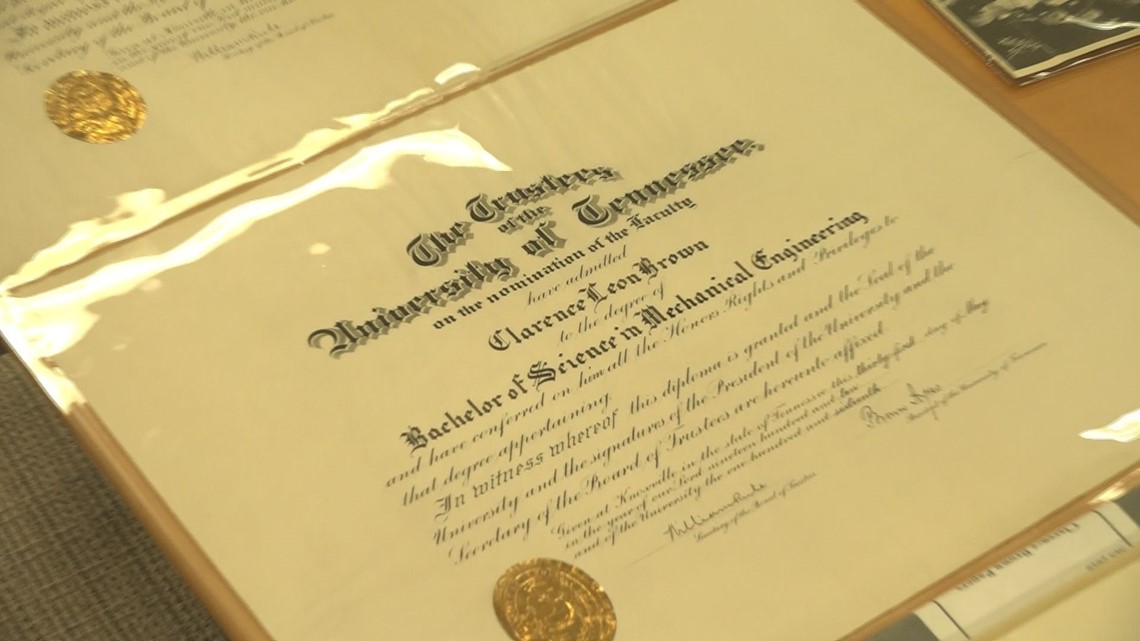 He was known in the business for his ability to get great performances out of actresses and children.
In 1945 he came back to Tennessee on the hunt for a boy to play Jody in his production of "The Yearling," one of his best known films. He found his actor when he spotted fifth-grader Claude Jarman in a Nashville classroom.
Jarman, now 88, would go on to act in other Brown movies, including "Intruder in the Dust".
"He really took a chance on me," Jarman told WBIR in an interview from his Northern California home.
By the 1950s, having made more than 50 movies, Brown was in his 60s and ready to retire.
He was already a wealthy man, having invested intelligently in Los Angeles area real estate for many years, Young said.
But Brown was far from done having an influence on show business and the theater.
In fact, he was about to take on a rewarding new role for which many, many people interested in the stage and screen would be forever grateful.
In his old hometown, of all places.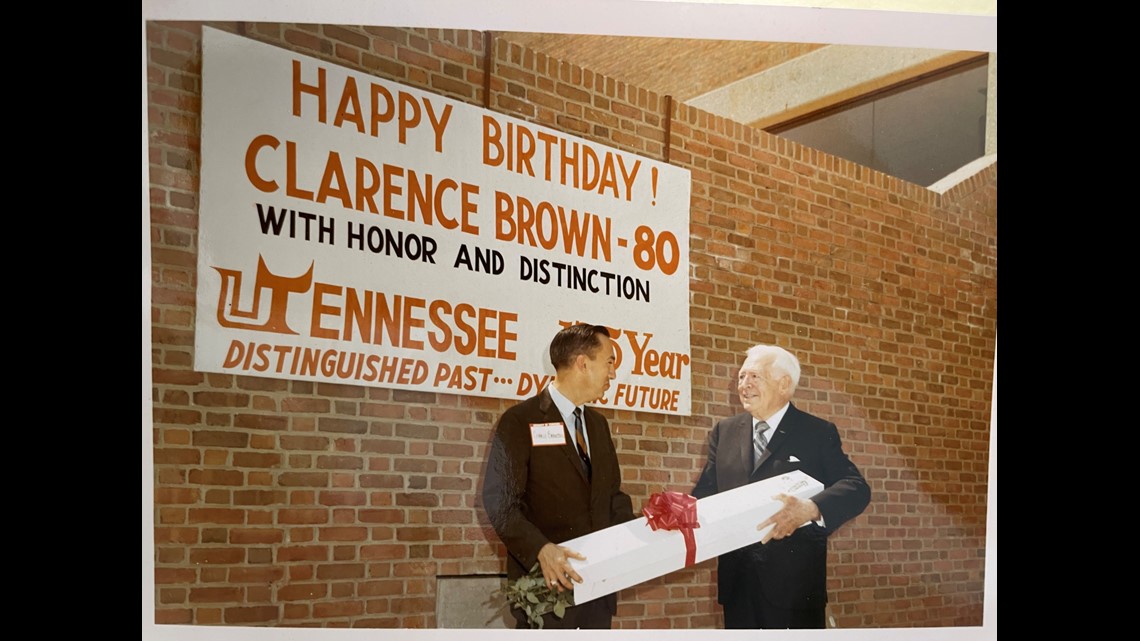 In the mid 1960s, UT leaders in Knoxville hatched the grand idea of staging a party in a suite of the new Century Plaza Hotel in LA and inviting celebrities there with Tennessee ties. They could schmooze, promote the UT brand and hopefully cultivate donors.
Only two people showed up, Clarence and Marian Brown, recalled the late Charlie Brakebill, who worked for many years in UT's development department.
"Nobody in the room had met Clarence Brown," said Brakebill, who died last year at age 97 after decades of service to the university.
UT President Andy Holt had sent Brakebill out to get the nearest, best alcohol he could find. Brown informed them he didn't drink.
Brakebill tried to entertain Brown with questions about his memories of attending UT in the early 1900s. Brown, however, groused about UT's decision to tear down the original buildings on the Hill that made way for Ayres Hall.
Brakebill feared the meeting had been a disaster. But, it proved to be a great success and the start of a long and satisfying relationship for both the Browns and UT.
UT pitched Brown with the idea of donating $500,000 over a number of years to build a theater. Brown's first response was, Not right now. But he soon agreed not only to help the university but to take a direct role in the planning of a first-class theater that would end up being named in Brown's honor.
If you've ever been to the Clarence Brown, you may have noticed that there's no center aisle, only long rows of seats flanked by steps to enter and exit. That was Brown's doing.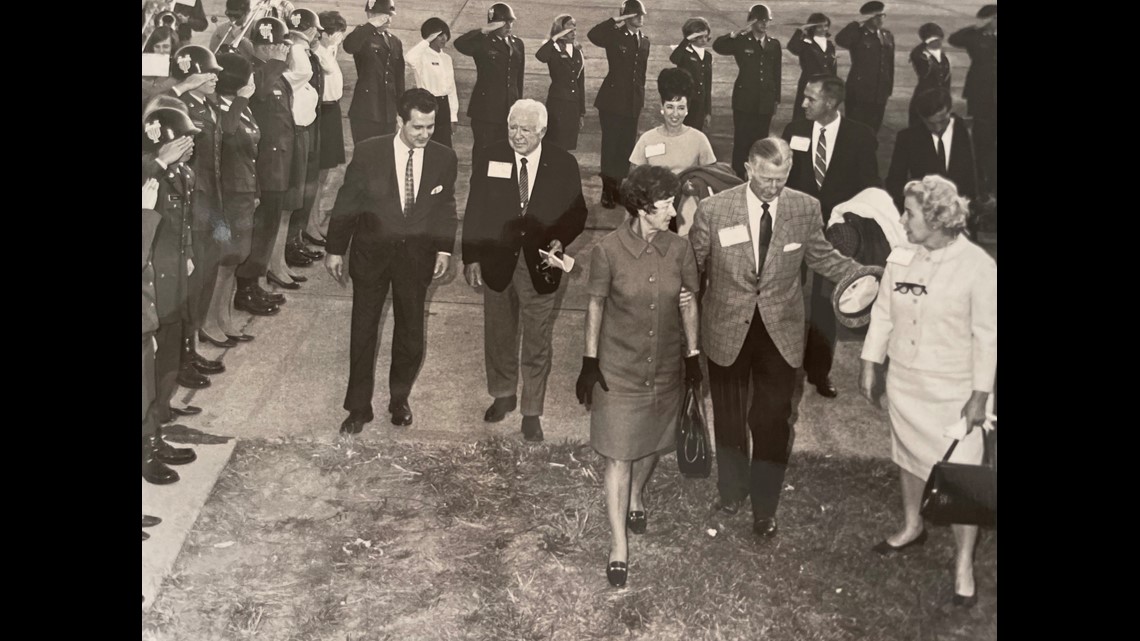 He knew that in movie theaters with aisles people were always up and down during a performance. He wanted people to sit and focus on the play, said Liz Stowers, a Clarence Brown Theatre program benefactor.
Brakebill recalled that Brown wanted UT to have as nice and professional a theater as major programs such as Yale University and UCLA.
"He wanted the best theater possible," Brakebill said.
It opened in 1970, a dedication to which the Browns happily attended. It became a key component in UT's push to build a nationally recognized program, and it continues to host productions of a professional caliber today.
Among the people who have enjoyed success following the Brown gift at UT are actors Dale Dickey, David Keith and Conrad Ricamora and writer and comedienne Paula Pell.
Brown occasionally came back to Knoxville before he died in 1987 in California. Marian Brown maintained friendships in Tennessee with people like Brakebill and his wife, Joyce, before her death in 1993 in California.
After her passing, UT learned of one last and significant gift from the Browns. And it was a big one.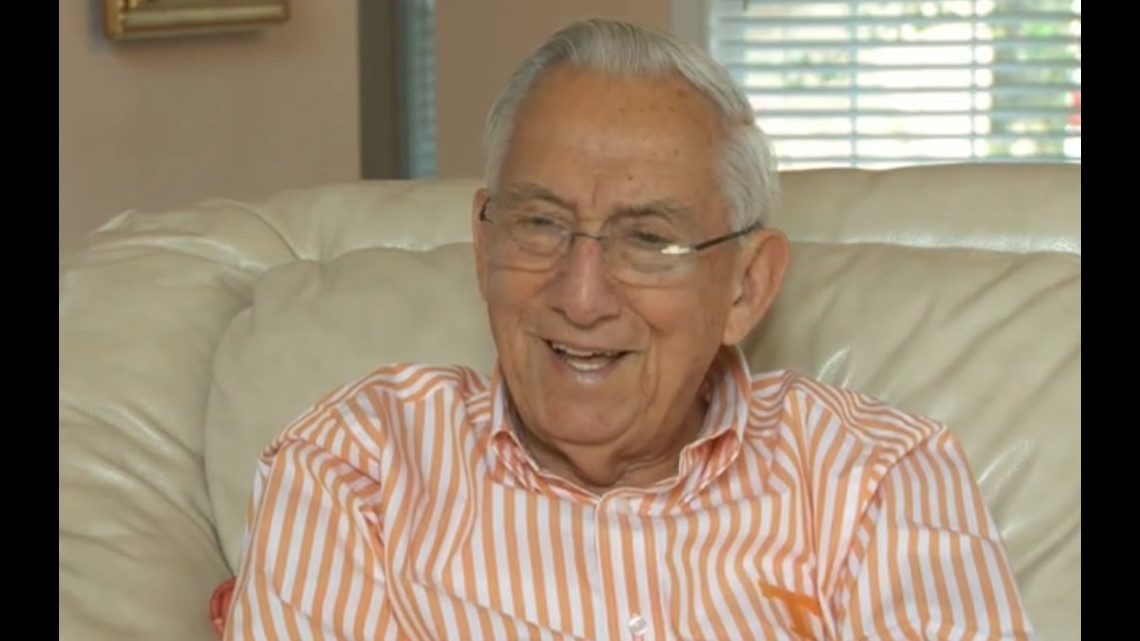 "When the will was probated, we found out we were the recipients of a $12 million endowment that nobody knew about except for Clarence and Marian. It was the surprise of the century," Stowers said.
Festivals like this week's event in Knoxville help keep Brown's memory alive. On TV, Turner Classic Movies can always be counted on to air a Clarence Brown movie. His work represents the bricks and mortar of what they showcase.
Brown also is memorialized with his own star on the Hollywood Walk of Fame. Interestingly, it's very close to that of one of his favorite actresses, Joan Crawford.
But Brown's true legacy lives on in his gifts to the university, something that can help any student who comes to Knoxville with dreams of a life in the theater or on screen.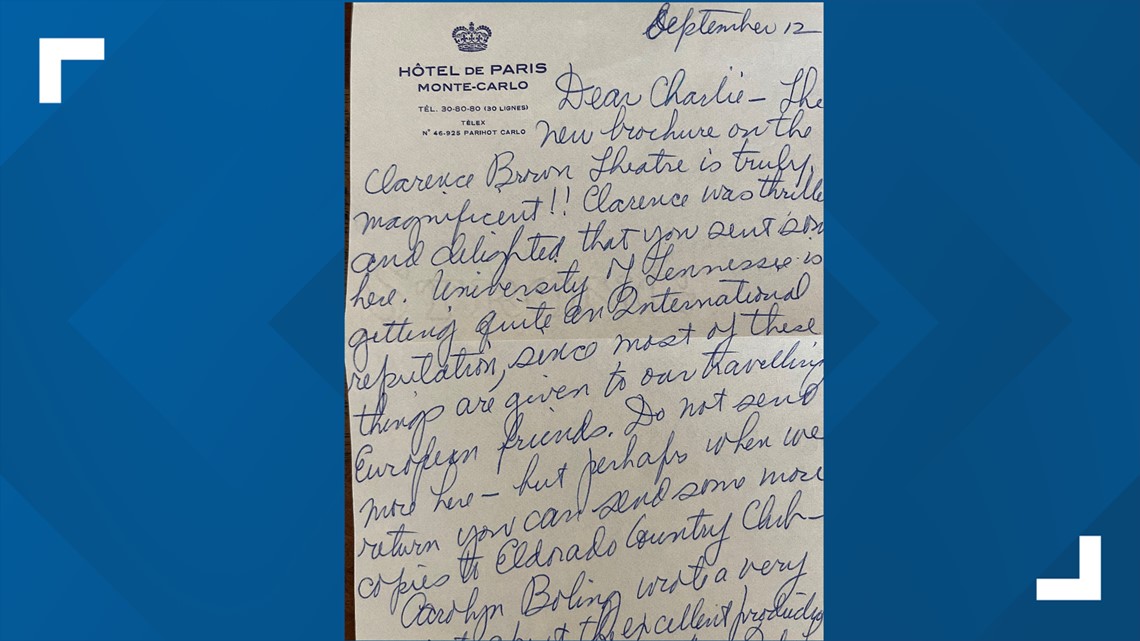 For years after he retired, Brakebill would remind people involved in the theater, including members of the advisory board on which he served, of the great legacy the Browns gave to UT.
Tom Cervone, managing director of the Clarence Brown, agrees.
"It has given hundreds and hundreds of students opportunities that they would never have, and the mantra that we have here is what Clarence mandated," Cervone said, turning to a Brown quote posted on the theater's wall: 'The mixing up of actors and designers with first-class professionals is manifestly the only right method of training future theater artists.'
"That is what we live by every day."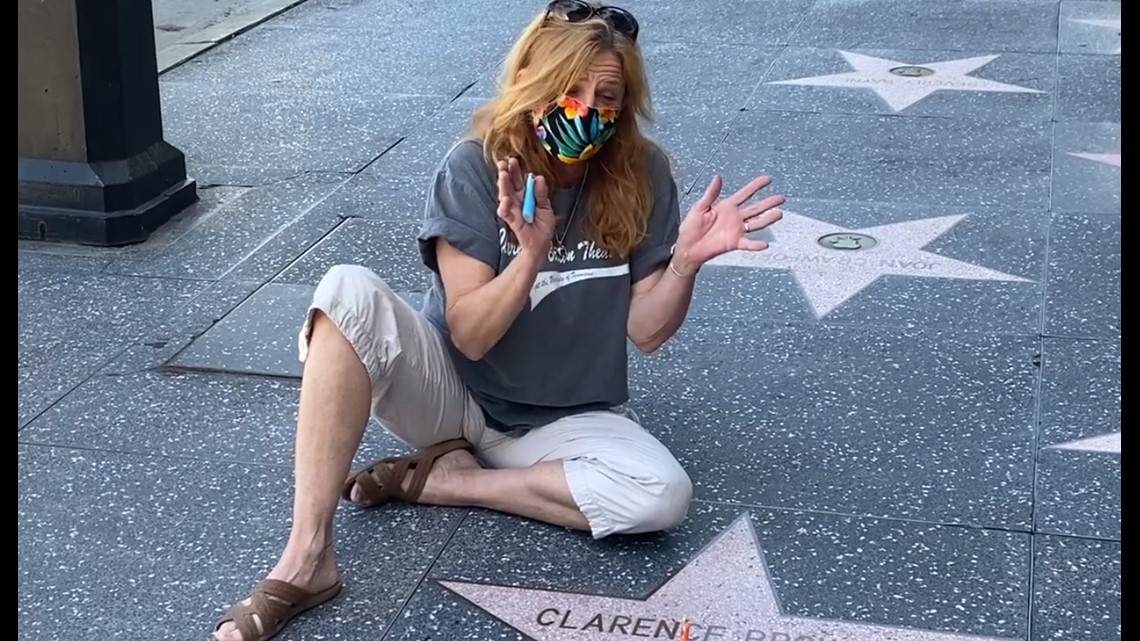 John North is a member of the non-paying Clarence Brown Theatre Advisory Board.