KNOXVILLE, Tenn. — A veteran Knox County Sheriff's Office captain on administrative leave because of a pending internal investigation has faced two previous reviews of his conduct, including one that drew a sharp warning from the sheriff, records show.
The Dec. 27, 2016, letter from then-Sheriff Jimmy "J.J." Jones to Capt. Mike Evans doesn't specify the circumstances behind Jones' decision to suspend him for three days without pay.
But WBIR has learned it had to do, at least partly, with crime scene photos from the 2016 Joel Guy murder case that were shared among some department personnel and allegations that Evans lied about a supervisor sharing the photos.
"It is my sincere hope that this three (3) day suspension will serve as a reminder of the importance of performing your duties as they are set forth by Policy and Procedure and General Orders," Jones' letter to Evans states.
"This should also serve as a warning that any such future infractions will result in a more severe disciplinary action, up to and including termination of your employment with the Knox County Sheriff's Office."
In 2011, the department also investigated allegations that Evans sexually harassed a 20-year-old department secretary. He was not punished in that instance, apparently, but some records are missing from that era, according to Kimberly Glenn, spokeswoman for Sheriff Tom Spangler.
Evans, a nearly 30-year veteran of the department, is on leave with pay while KCSO looks into his recent conduct toward a woman at an area restaurant, WBIR has learned.
Evans couldn't be reached for comment.
WBIR reviewed documents in Evans' personnel file and requested any and all internal investigative reports. He's been working for the Sheriff's Office since about 1994.
According to sources, some crime scene photos from the double murder at the Guy home in November 2016 were shared among some department personnel. Sources say Evans falsely claimed that a supervisor shared the photos.
On Nov. 26, 2016, Joel Guy Jr. murdered his parents in their Goldenview Lane home, cut up their bodies and put the parts in bins filled with acidic liquids. He hoped the acid would dissolve most if not all of their remains.
Guy also put his mother's head in a cooking pot on the stove. KCSO authorities discovered the murders two days later, on Nov. 28, 2016, while conducting a welfare check on Joel Guy Sr. and Lisa Guy.
The case was so gruesome Knox County Criminal Court Judge Steve Sword elected at Guy's trial in 2020 to spare jurors from seeing some of the more graphic crime scene photos.
A memo in Evans' file dated Dec. 27, 2016, from then-KCSO Chief Deputy Eddie Biggs to Sheriff Jones said he met Dec. 12, 2016, with Evans. Assistant Chief Brandon Workman took part in the conversation, the document states.
According to the memo, Biggs indicated a three-day suspension was in order "as a deterrent to future issues involving Captain Evans."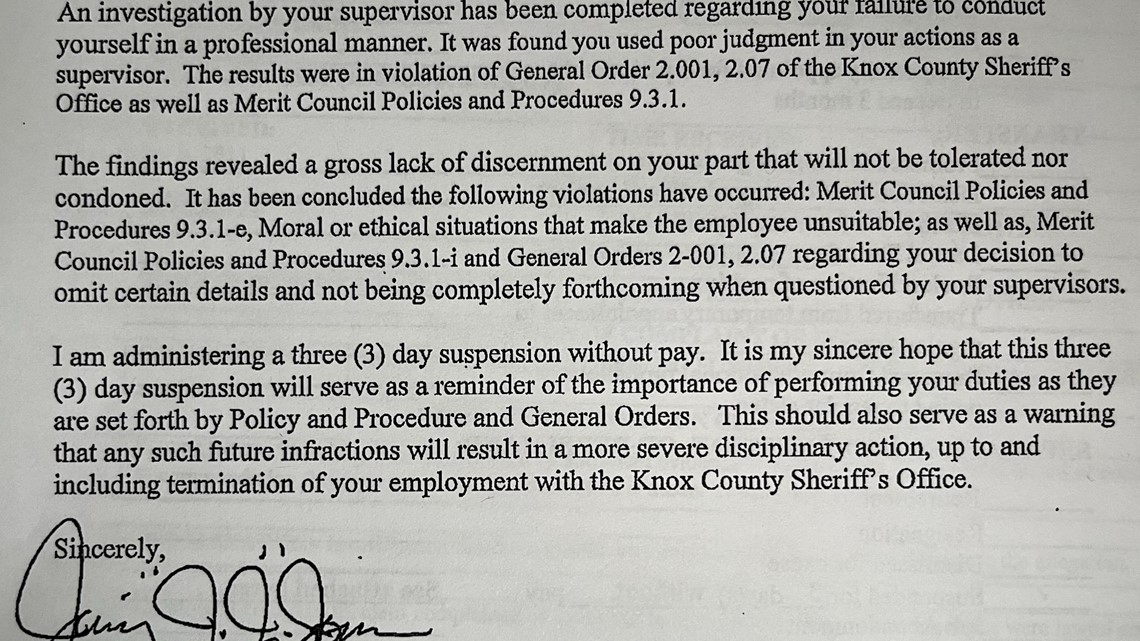 Jones, who couldn't be reached for comment for this story, followed up with a letter to Evans.
It noted he'd used "poor judgment in your actions as a supervisor." He violated general orders and Merit Council policies and procedures, the letter states.
"The findings revealed a gross lack of discernment on your part that will not be tolerated nor condoned," the letter states.
According to Jones, Evans' conduct included a violation of Merit Council Policies and Procedures regarding "moral and ethical situations that make the employee unsuitable."
The sheriff also cited a violation of General Orders regarding "your decision to omit certain details and not being completely forthcoming when questioned by your supervisors."
"It is my sincere hope that this three (3) day suspension will serve as a reminder of the importance of performing your duties as they are set forth by Policy and Procedure and General Orders," Jones wrote.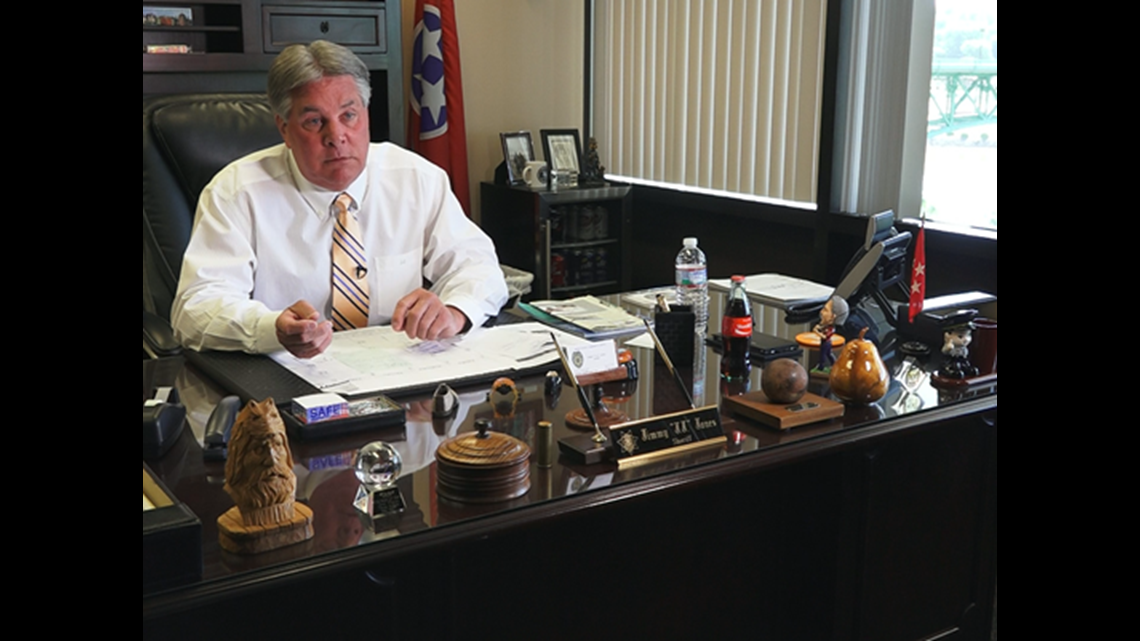 2011 SEXUAL HARASSMENT COMPLAINT
In 2011, Evans also was the subject of an internal investigation about alleged sexual harassment of a young KCSO secretary while he was working as a patrol shift commander, records show.
During October and November of that year, she told investigators he'd massaged her shoulders without her permission, made suggestive comments about a country music artist loud enough for her to hear, and at another time when the copy machine was acting up told her, "Maybe if you put that ass into it, it'll work."
At that point, she told investigators, she went upstairs to tell colleague Hillary Coward about what had just happened. Coward had previously told the woman that Evans had once advised Coward to show more "cleavage" when she worked as patrol secretary, records state.
The young woman said she was "creeped out" about Evans' behavior.
"I ah...I was...I felt scared honestly. Ah...because that was further to me ah...it was like it felt like it was progressing to me because when he massaged my shoulders that day, this was just almost like a whole other level to me," a transcript of her interview shows.
When questioned, Evans said he'd never touched her.
"Ah...I...I have never, to my recollection, ever laid hands on her, shook her hand, patted her on the back, nothing...nothing like that," a transcript of his remarks shows.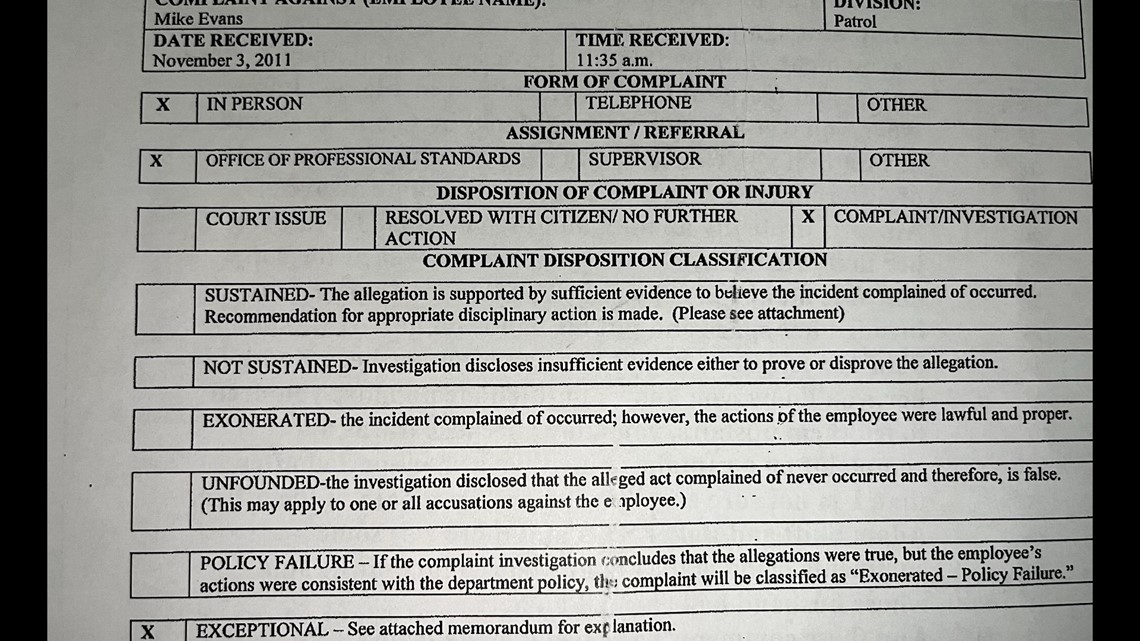 It was possible, he recalled, that he could have made a few "below board" remarks if he saw a pretty woman on television, the transcript shows.
"But ah...in no way would what you just described to me be said," he concluded.
As for the copy machine incident, Evans recalled it differently.
He said he may have said "butt". And, he'd said something similar to that beforehand, he told investigators.
"And I said, which I have said on numerous occasions to many people that have messed with that computer, 'If you'll put your butt into it,' and when I motioned it was to put your hip into the front of it."
It's possible he said that, he recalled, after a staff meeting had just concluded, with many people milling around.
Overall, he told investigators, he was surprised by the harassment allegations because he thought his interactions with the secretary had been fleeting -- "the only time I ever see her is on my way out the door when we're working evenings."
Under the disposition status of the Office of Professional Standards review, the cover sheet refers to an attached memo for explanation.
Glenn, the KCSO spokeswoman, told WBIR there is no attached memo, however.