On March 5, 1997, Peyton Manning announced he would stay at Tennessee for his senior season rather than leaving early for the NFL Draft, where many thought he would be the no. 1 overall pick.
That decision forever impacted Peyton's life, especially his relationship with Tennessee fans.
"Without a doubt, to this day, one of the best decisions that I've ever made in my life," Manning told WBIR this summer. "It just created a bond with me and people in Tennessee, from Memphis all the way to Johnson City. To this day, I still get people who thank me for staying. It means a lot because it was about more than football, it was a commitment to the University of Tennessee, to the state of Tennessee."
"Coming from New Orleans, I didn't know anybody there in 1994 when I arrived on campus. The university, the students, my teammates, coaches, the alumni, really supported me and kind of adopted me as one of their own. It's meant a lot to me the way people have embraced me and I'll always have that bond."
Many people thought Manning would leave early for the draft. That seemed to be the trend at the time for star athletes and Manning was on track to graduate that May, earning his undergraduate degree in three years. The New York Jets, with Bill Parcells taking over as head coach, had the number one overall pick in the 1997 NFL Draft and were expected to select Manning.
Following a 10-2 season in 1996 capped off by a 48-28 Citrus Bowl win over Northwestern in which Manning threw for 408 yards and four touchdowns, Peyton went home to New Orleans to contemplate his future.
"I'm away from campus, away from my teammates, I pretty much thought that I was leaving," Manning said. "I said I'm going to turn pro to the NFL, I wasn't around the college experience."
Manning's attention to detail, plus his diligence in the classroom and a loophole in NFL Draft early entry rules played a role in Peyton deciding to stay. Most early entrants had to declare for the draft by January 11 but because Peyton was on track to graduate before the 1997 season started, he had until April 4 to announce his decision. He took 22 hours of classes in the spring semester of 1997 to make that possible.
"I get back to college after Christmas break, I'm back in school, I'm working out with the team, I go on spring break with my friends, I'm around college and now my decision starts turning the other way like, 'wow this is special and I'm not sure I want to leave this so fast, I'm enjoying the college experience.' But that timing of when I had to make my decision had a lot to do with me staying for sure," Manning said.
He called a press conference for March 5.
On the night before his big announcement, Peyton ate dinner with friends and family at one of his favorite Knoxville spots, Litton's Market and Restaurant in Fountain City. No one at the gathering knew what Peyton would say the next day.
"I had a green golf shirt on and I remember, the late Bobby Denton, who was the voice of the pregame show for Tennessee, said, 'yep, he's wearing a green shirt, that's the New York Jets and that means he's taking the money,'" Manning said.
"It was never my goal to create any drama, if you will, but at the same time, because I knew it was going to be good news for the majority of people, I was okay with it. Had I been leaving, there was no way I would have had a press conference like that with this sort of dramatic unveiling."
Peyton returned to the Vols for one more year and the Jets traded the top pick to the Rams for four draft picks.
Manning led Tennessee to an 11-2 record and an SEC championship in his senior season. He threw for 3,819 yards and 36 touchdowns in 1997 (both marks are still school records), and won the Maxwell Award for best player, Davey O'Brien Award for best quarterback and Johnny Unitas Golden Arm Award for best senior quarterback.
The SEC championship was Tennessee's first since 1990 and Phillip Fulmer's first as a head coach.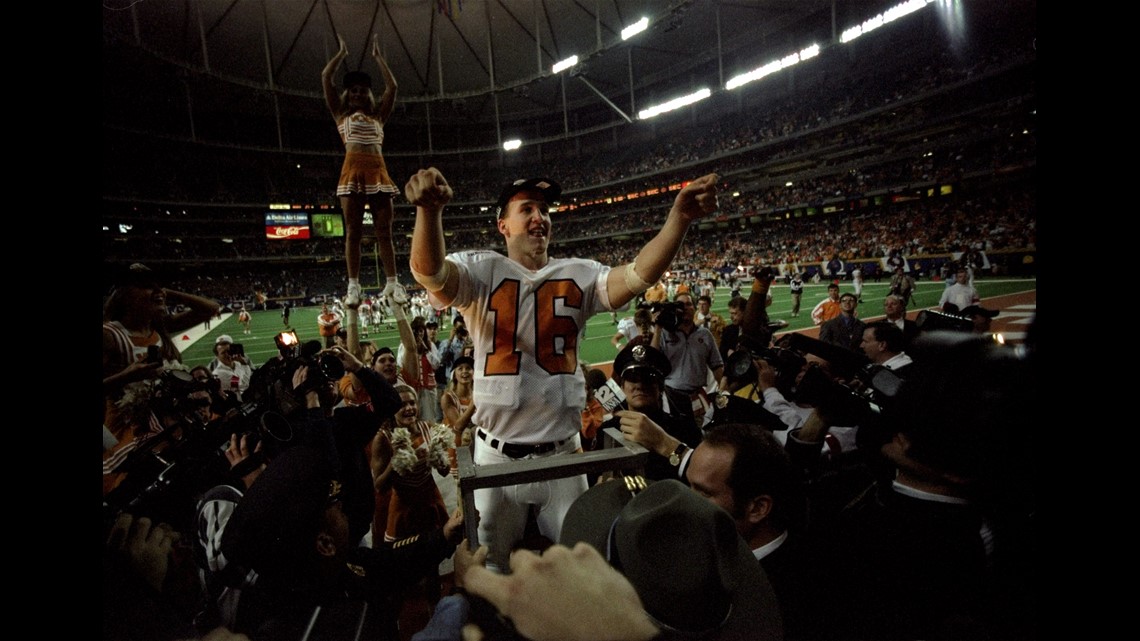 Meanwhile, the Jets traded the no. 1 pick to St. Louis, who drafted Ohio State offensive tackle Orlando Pace. The Rams won the Super Bowl three years later and Pace turned into a Hall of Famer and four-time All-Pro. New York drafted linebacker James Farrior with the no. 8 pick and he played five seasons with the Jets before leaving for Pittsburgh in free agency.
Manning was drafted no. 1 overall by the Colts the next year in 1998 and led them to a Super Bowl victory in 2007.