The University of Tennessee announced it will be parting ways with Butch Jones Sunday afternoon.
However, the former head coach of UT football is still under a contract for another few years, up until February 28, 2021.
The university will have to continue to pay Jones throughout the upcoming years as part of his contract. Tennessee's buyout adds up to more than $8 million - $8,257,580.00 to be exact.
Jones' first payment will be paid before the end of November. From then on, Jones will receive $2.5 million per year of what remains on his contract, paid out on a monthly basis.
The amount of that buyout will be reduced dollar-for-dollar by the income of Jones' next job. The contract states Jones must find comparable employment and make "reasonable and diligent efforts" in his search.
Here is the full text of Jones' termination letter: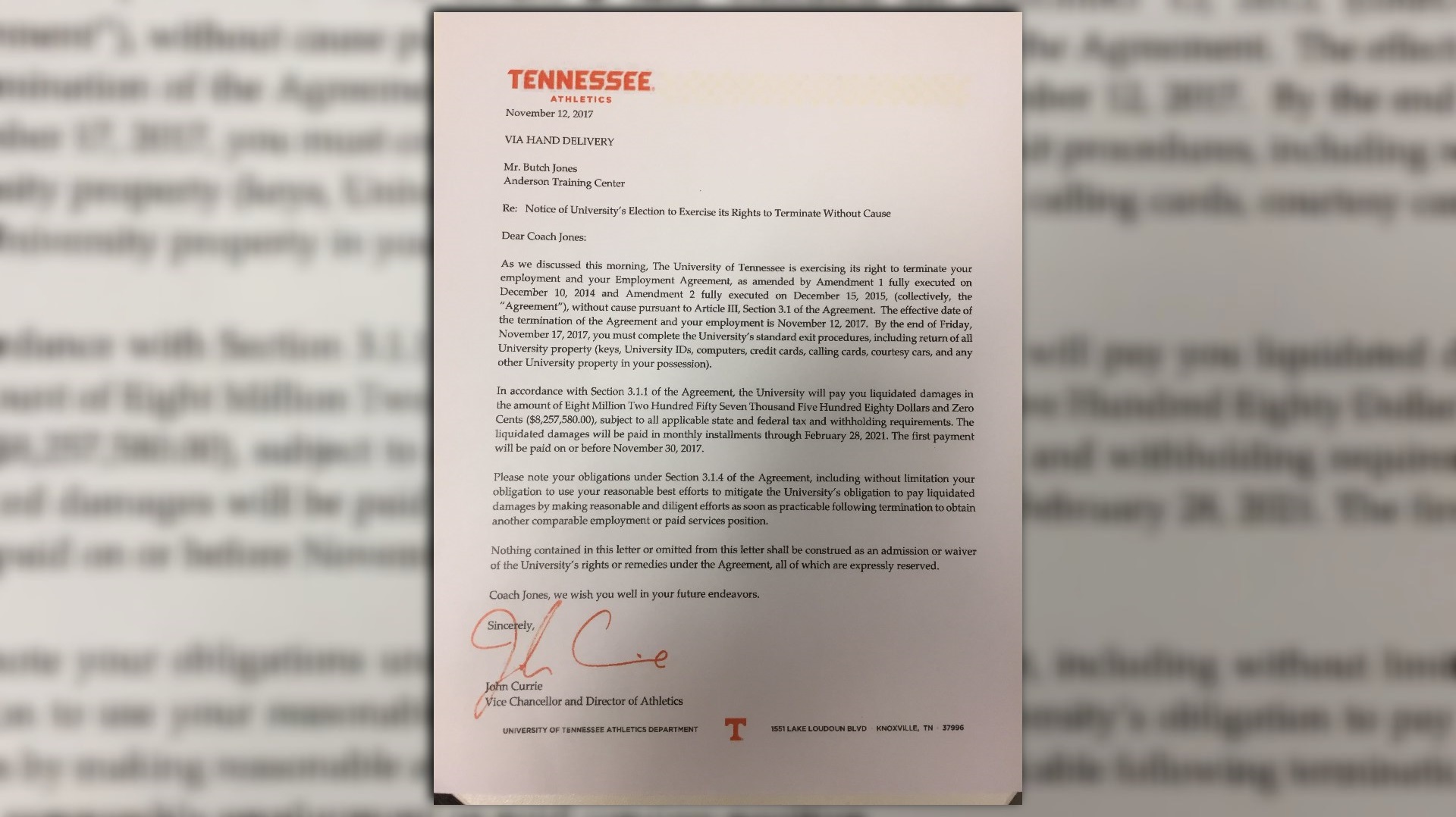 As we discussed this morning, The University of Tennessee is exercising its right to terminate your employment and your Employment Agreement, as amended by Amendment 1 fully executed on December 10, 2014 and Amendment 2 fully executed on December 15, 2015, (collectively, the "Agreement"), without cause pursuant to Article III, Section 3.1 of the Agreement. The effective date of the termination of the Agreement and your employment is November 12, 2017. By the end of Friday, November 17, 2017, you must complete the University's standard exit procedures, including return of all University property (keys, University IDs, computers, credit cards, calling cards, courtesy cars, and any other University property in your possession).
In accordance with Section 3.1.1 of the Agreement, the University will pay you liquidated damages in the amount of Eight Million Two Hundred Fifty Seven Thousand Five Hundred Eighty Dollars and Zero Cents ($8,257,580.00), subject to all applicable state and federal tax and withholding requirements. The liquidated damages will be paid in monthly installments through February 28, 2021. The first payment will be paid on or before November 30, 2017.
Please note your obligations under Section 3.1.4 of the Agreement, including without limitation your obligation to use your reasonable best efforts to mitigate the University's obligation to pay liquidated damages by making reasonable and diligent efforts as soon as practicable following termination to obtain another comparable employment or paid services position.
Nothing contained in this letter or omitted from this letter shall be construed as an admission or waiver of the University's rights or remedies under the Agreement, all of which are expressly reserved.
Coach Jones, we wish you well in your future endeavors.
Vice Chancellor and Director of Athletics"
As the university searches for a new head coach, Brady Hoke will serve as the interim head coach of the Vols for the last two games of the 2017 football season.