MEIGS COUNTY, Tenn. — A bus driver and 7-year-old girl were killed in a bus crash in Meigs County on Tuesday. Several other children on board the bus were hurt and four remain in the hospital as of Wednesday.
Officials said the bus driver was traveling in her lane when the driver of a Service Electric Co. truck lost control and hit the bus. The Tennessee Highway Patrol said the bus driver had no time to avoid a crash when the truck crossed the center lane, causing a head-on collision.
The crash happened in the 7700 block of Highway 58 in Decatur, near the Bradley County line. The bus was coming from Meigs South Elementary School and carried students of all ages.
There were 32 students on the bus, in addition to the driver, according to Meigs County Director of Schools Clint Baker. On Tuesday night, officials reported there were 22 students on board.
Five children from the bus were flown to a hospital and two more children were taken from the scene by ambulance, according to officials. Baker said four are still in the hospital in Chattanooga and reportedly stable. One is in critical condition, he said.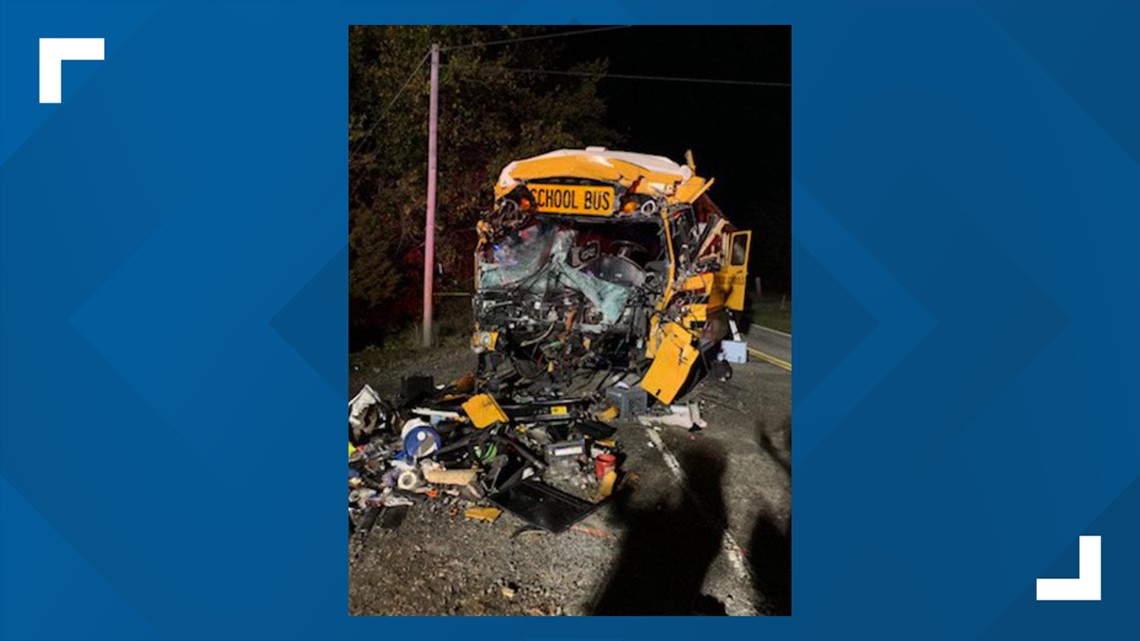 "Everyone's hearts, minds, thoughts and prayers are with the children and especially those who lost loved ones. We ask that folks pray for God's grace, his love and comfort to surround these families," he said.
According to a press release from the Meigs County Dept. of Education on Wednesday, several students were treated and released from hospitals in Chattanooga, Cleveland, Athens and Rhea County.
Officials have not released the names of anyone involved in the crash.
"This is a very, very tragic event. Our hearts are heavy, and they will be for some time," Baker said as he held back tears. "Our school community lost one of our most wonderful and dedicated employees, and most importantly a friend. We also lost a beautiful 7-year-old girl."
The driver had worked with the school for three years.
"She was an outstanding driver, but an even better person. We'll miss her. She's irreplaceable," he said.
Baker became emotional when he talked about the older students comforting the younger ones after the crash.
"Sorry I'm emotional. If you could have seen it you would understand. They were taking care of them, along with emergency folks," Baker said.
Baker thanked the surrounding community and East Tennessee for sending help from as far away as Sevier and Jefferson County.
"Just pray for our community. Pray for our staff, students and teachers. And pray for our bus drivers," he asked.
Meigs County had an online learning day on Wednesday, but Meigs South Elementary school was open for anyone who wanted to speak with counselors.
Baker said counselors will be available at the schools and for students on the bus route on Thursday.
He said he knows it will be difficult for some of those kids to get back on the bus tomorrow, and that school officials would work to make them feel safe or let them learn from home if needed.
But he takes heart from a conversation he heard Tuesday between a teacher and a first-grade student that had come to the school with his grandmother to speak with a counselor.
"He told his teacher he was coming to school tomorrow. And he was riding the bus," he said.
Tennessee Department of Education Commissioner Penny Schwinn said she is mobilizing support for the community.
"I and the entire staff at the Tennessee Department of Education are deeply saddened to hear about the fatal bus crash in Meigs County earlier this afternoon," Schwinn said. "No words can express our sympathies for those lives that were lost. We send our deepest condolences to the students, families, school staff and leaders, district staff and the entire Meigs County community affected by this tragic accident and wish healing for all those injured. The department has communicated with district leaders and staff in Meigs County and surrounding areas and is mobilizing to support this community in safety response and services."
A spokesperson for Blood Assurance in Hamilton County said due to the number of injuries, four locations to donate blood will be open until 10:00 p.m.
The locations are in Hixson, Downtown Chattanooga, Gunbarrel and Cleveland. Those who wish to donate blood must make an appointment by calling 1-800-962-0628 or by clicking here.