As Facebook group titled TN Wildfire Lost/Found Pets is sharing pictures and information about found pets to try and reconnect them with their owners.
As thousands of people evacuated areas of Gatlinburg and Pigeon Forge under the threat of wildfires Monday night, many of them did not leave their homes alone. Hundreds of people took their pets with them as they left.
Now, crews are trying to figure out where to fit all the animals in with the rest of the evacuees.
There is a designated room inside the Gatlinburg Community Center for the animals within the evacuation center to make the owners and the pets more comfortable.
Harrold Rhode said it wasn't a question - he was taking his three dogs and a cat with him when he evacuated his home.
"We weren't going to move without them," he said.
For now, they're sleeping next to him at the evacuation center, along with dozens of pets evacuated from the fire.
Animal rescue coordinator Tiffany Gallion came from Middle Tennessee as soon as she heard about the fires.
"You wouldn't leave your child behind, so you have to take your animals too," she said. "When I heard that everything was burning, it touched my heart and I felt like this is where I needed to be."
Her rescue group helped get donations from animal lovers across the state to help the pets displaced by the fire.
"Everyone has been so helpful and nice, and really made us feel at home," Rhode said.
Everyone who comes in to the animal room gets a free bag of dog food, dog toys and a kennel to take home with them. Coordinators say they want to do everything they can to help.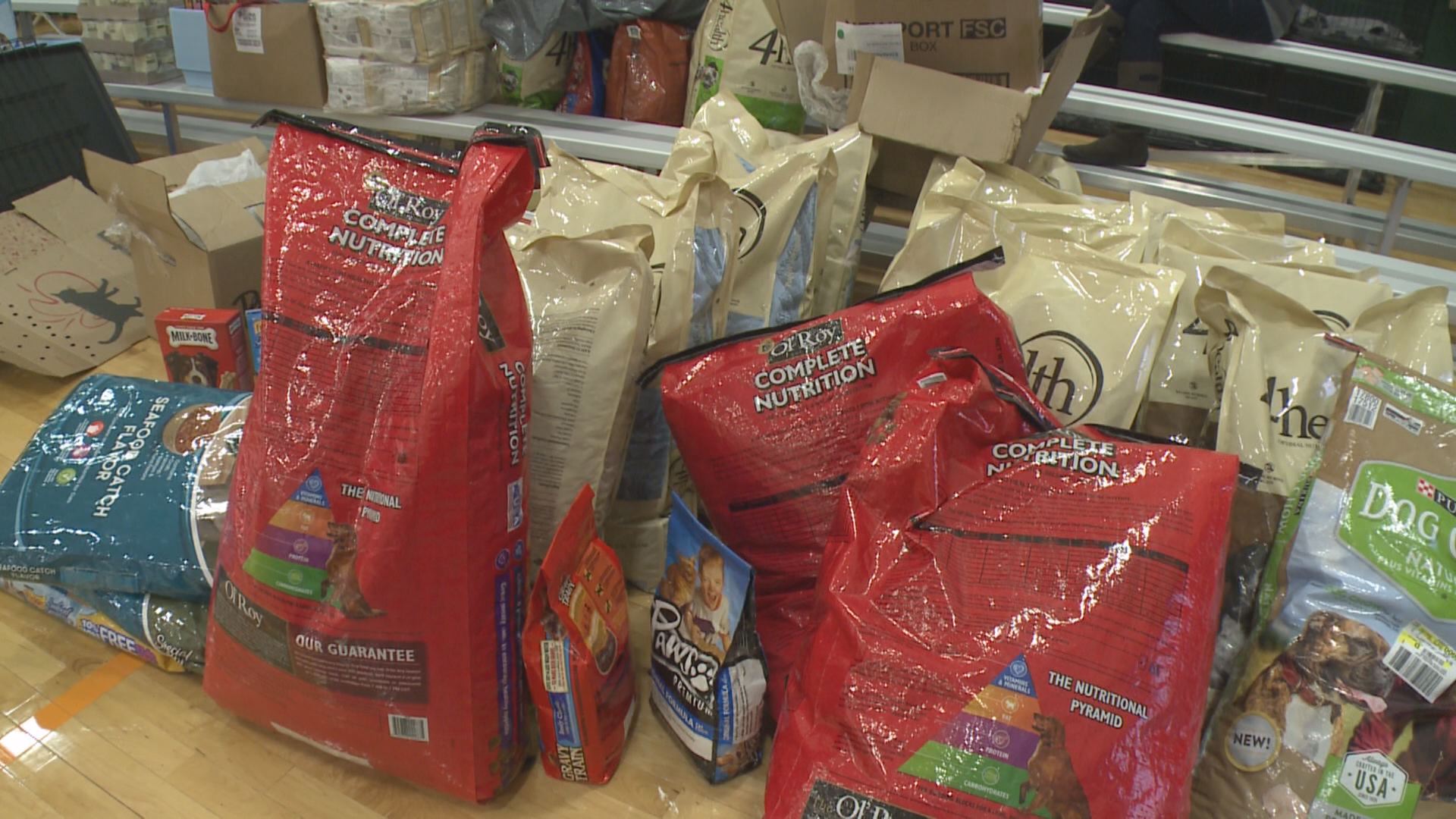 If you need help with your animals:
The Sevier County Humane Society has set up an emergency shelter for pets at the Sevier County Fairgrounds at 754 Old Knoxville Hwy, Sevierville, TN 37862 with the help of Brother Wolf Animal Rescue out of Asheville, NC and Humane Society of Tennessee Valley. They will have staff and volunteers onsite, around the clock to receive and care for animals.
If you have information about animals stranded in the disaster area, please email Sevieranimalshelter@gmail.com with the following info and we'll get back to you as soon as possible:
• Guardian/Resident's name ?
• Guardian/Resident's cell phone number ?
• Description of animal(s) ?
• Address where animal(s) are located ?
• Permission to used forced entry to enter premises if necessary ?
Wildwood Farm has pasture, water, and hay available for any large animals (cattle, horses, llamas, etc) displaced by the fires. Our farm is located in the Porter/Wildwood community. We can also help with a stock trailer and horse trailer. Contact Julie Maner at (865)256-9589
Meadowbrooke Kennel at 1811 Holston Road River Road in Knoxville is taking in dogs from the evacuation area.
If you want to help:
Anyone with animal care experience who is interested in volunteering to help with animal care at Sevier County's Emergency Shelter, can email us Shelterstaffsevier@gmail.com with your name, cell phone, days/hrs of your availability. We'll get back to you as soon as possible.
If anyone would like to send supplies for evacuee animals at our Emergency Shelter, we can use, Purina dog/cat food, leashes, harness, bedding, cleaning supplies. Donations can be dropped off at the Fairgrounds or at Sevierville PetSmart or Sevierville PetSense.
Donations may be shipped to: Sevier County Fairgrounds
℅ Sevier County Humane Society
754 Old Knoxville Hwy, Sevierville, TN 37862.
Most urgently, we could use your financial support. If you are able, please make a donation online at www.sevierhumane.org. Or you can mail your donations to:
Sevier County Humane Society
PO Box 976
Pigeon Forge, TN 37863
The Humane Society of the Tennessee Valley took in animals from Sevier County Humane Society. They are also taking donations for the SCHS. Monetary donations can be directed to https://www.youcaring.com/seviercountyhumanesociety-702875.
You can drop of donations at their location at 6717 Kingston Pike, Knoxville
Priority items:
- Purina One food - (Currently biggest need is cat & kitten but dog & puppy are needed also)
- Cat litter
- Wire crates/kennels (especially large & x-large)
- Stainless steel bowls
- Cleaning supplies
If your organization wants to help with relief, please coordinate with the Tennessee Emergency Management Agency at (615)741-0001.
Fox Feed Supply in Jefferson City will serve as a drop-off location for Paws & Claws Animal Rescue TN. They are collecting bottled water and other drinks, as well as packaged snacks for firefighters. Items can be dropped off at their store, located at 250 W. Old AJ Hwy, Jefferson City, TN 37760. For more information call or text Wendy at 423-312-7400.