Mark Martin's family lost three homes and a prayer chapel the night fire tore through Sevier County.
Martin, his sister and their 92-year-old mother lived in separate homes on a mountaintop overlooking the Spur. From their property, they can look down and watch the cars going into Gatlinburg in one direction and Pigeon Forge in another.
They could also see the flames blazing closer to their homes on the night of Nov. 28, 2016, as they prepared to escape down the mountain together.
"We got out about an hour before the fire," Martin said. "Sparks were flying on the rooftops when we got out."
The Martins are among about 900 families who were helped by the My People Fund established by Dolly Parton and the Dollywood Foundation in the days after the fires. The fund distributed monthly checks to families who lost their homes in the fires to help them with their short-term recovery.
The fund started with Dolly Parton, but quickly grew from more than 100,000 individual donations from across the country. It was bolstered by a star-studded country music telethon and the personal affection many tourists and vacationers feel for the Smoky Mountains.
The $12 million collected through the My People Fund was nearly double the $6 million to 7 million the Dollywood Foundation initially hoped to raise, according to the foundation's president David Dotson.
"What became so clear is that there's multiple generations of people who have vacationed here … and this was really -- people had, the visitors had this attachment to Gatlinburg and this love of Sevier County because they come here year after year, and I truly believe that's why they responded so well," Dotson said.
The money was put toward the goal Dolly Parton herself laid out in the first days after the fire as the Dollywood Foundation team was discussing how they could help: "She came up with the notion right off the bat that she wanted to put money into the hands of the people who lost their homes," Dotson said.
Money helps some rebuild, others move on
Each family ultimately received $10,000 - made in six monthly installments that they could use however they wanted to help with their initial recovery.
For Jenni Forgey and her husband, that meant providing some income after she lost her job with cabin rentals that were destroyed in the fires.
"(It) helped me tremendously as far as getting the small things back," Forgey said.
The money also helped cover their expenses as they temporarily moved to Kingsport to live with Forgey's mother, who was going through chemotherapy.
"It helped me a lot there because when you've got a relative going through chemo treatments, it's nice to be there with them," Forgey said.
Jenni and her husband are now living in Cleveland, Tennessee, and while they're still working to rebuild their lives, she says they're doing just fine.
"I turned out just fine. I'm just fine. The fear of the fire and everything still hangs with me and kind of haunts me," she said. "God blessed us. Dolly and all of those others blessed us, but we're just two old retired folks just trying to make a living."
Martin and his family are rebuilding two of the homes that burned on their mountaintop property.
"Every penny that we got from the Dollywood Foundation checks went right back into the rebuilding of the houses," Martin said. "We're not through yet, but if not for those donations, I don't know what we would have done."
The family is living in a house in Sevierville while they rebuild. The drywall is going up on their new houses now, and they hope to be painting and have electricity installed soon.
As the community marks one year since the devastating fires, Martin is still struggling to find the words to express his gratitude.
"Any chance I can get to express my family's appreciation to Dolly and to the Dollywood Foundation for what they did for us is extremely important to me," Martin said. "How do you say thank you properly? You just trust God to do that for you."
On Tuesday, the one-year mark of the wildfires, "my family will go up on the property and we'll thank the Lord for saving our lives," he said.
On Tuesday, the day after the fire, the Dollywood and Dollywood Foundation staff were in emergency mode assessing their property and staff members' homes, just as the rest of the county was.
Dolly was in the middle of her "Pure & Simple" tour, and kept in touch with the staff by phone while watching TV coverage of the fires.
On Wednesday, several Dollywood staff members had a conference call with Dolly to regroup and figure out their next steps.
"We asked what should be our collective response to all of this? Not what kind of supplies were needed at an emergency shelter, but what actions could we take to be of significant help?" Dotson said.
Dolly said she wanted to put money directly in the hands of those who had lost their homes, and came up with the name of the My People Fund.
Dotson said the staff then set to work setting up a website, a donation portal and working out the details of how much money each family would get, and for how many months. Dolly taped several short videos sharing her response to the fires and her motivation for wanting to help.
Just a few hours later, the Dollywood team pushed out the announcement on social media. About $1 million of donations came in that night.
"So we knew it worked in terms of the original goal, and we were able to very quickly pull it together," Dotson said.
By the end of the week, Dolly said she'd like to do a telethon to raise even more money and awareness of the situation in Sevier County.
Dolly Parton's Smoky Mountains Rise telethon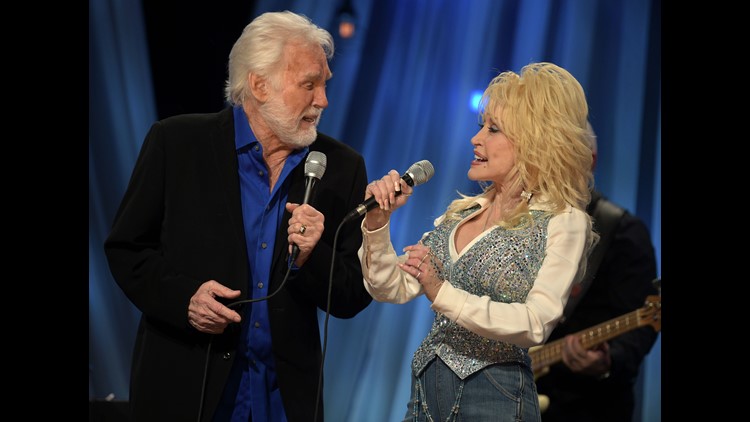 The plan was they'd do it right at the end of her tour, because they'd already have the band and stage crew all together. They had 13 days to get it all organized. The tour staff pulled together the logistics for the telethon while the Dollywood staff was preparing for the first round of check distributions.
"Those first three weeks we were truly flying on blind faith, and it all worked out," Dotson said.
Opening thousands of donation checks
By January, $9 million had poured into the fund, much of it in the form of small, individual donations.
"One thing we did not even begin to anticipate until the day the postman showed up with giant bins of checks was how are we going to get these all opened up and into accounting?" Dotson said.
Dollywood lent some of their accounting staff, and other people were brought in just for the job of opening checks.
"There were some people that made large donations, but the backs of the $9 million was raised on over 100,000 individual contributions," Dotson said.
Money kept coming in. By the time of the last check distribution in May, the My People Fund had collected roughly $12 million.
Dolly herself came to the final check distribution, handing some of the families their checks in person. She was there to help deliver a surprise - the final checks weren't for $1,000 like the previous five checks had been, but were written for $5,000 each.
"She's hit the ground running and now everything is as it should be," Dotson said.
While the My People Fund took on peoples' immediate needs after the fires, Mountain Tough is now working on the next phases of recovery, like case management, site and debris cleanup and home rebuilding, Dotson said.
Countless groups and charitable organizations, churches, individuals and government programs stepped in to help with wildfire recovery, and Dotson said it was never a question of whether the Dollywood Foundation would jump in to help as well.
"The fact is that we're residents of the county and this is our home from a personal and a business place, so I think like no matter what community people live in, you feel committed to your community through the good and the bad times, and this was a really bad time," Dotson said.
"There was never a second of hesitation and doubt or anything. It was like 'What is the most we can do, and let's do that."