KNOXVILLE, Tenn. — A viewer shared a social media post with WBIR that claims gangs are targeting women in several Tennessee counties.
The post claims a task force unit with a local police department and the Federal Bureau of Investigation spoke with the user at the user's workplace. According to the post, the user was told gangs that work with cartels were operating in Jefferson, Madison, Limestone, Lauderdale and Morgan counties.
It says the gangs were targeting women, especially women who park away from buildings or stores. The post claims the gangs would grab women as they walk to their cars at night, and also targeted women at gas stations at night.
A quick search on Facebook brings up several different versions of the post, mentioning different cities and areas. WBIR also reached out to local law enforcement to ask whether any legitimate threats were reported related to the post.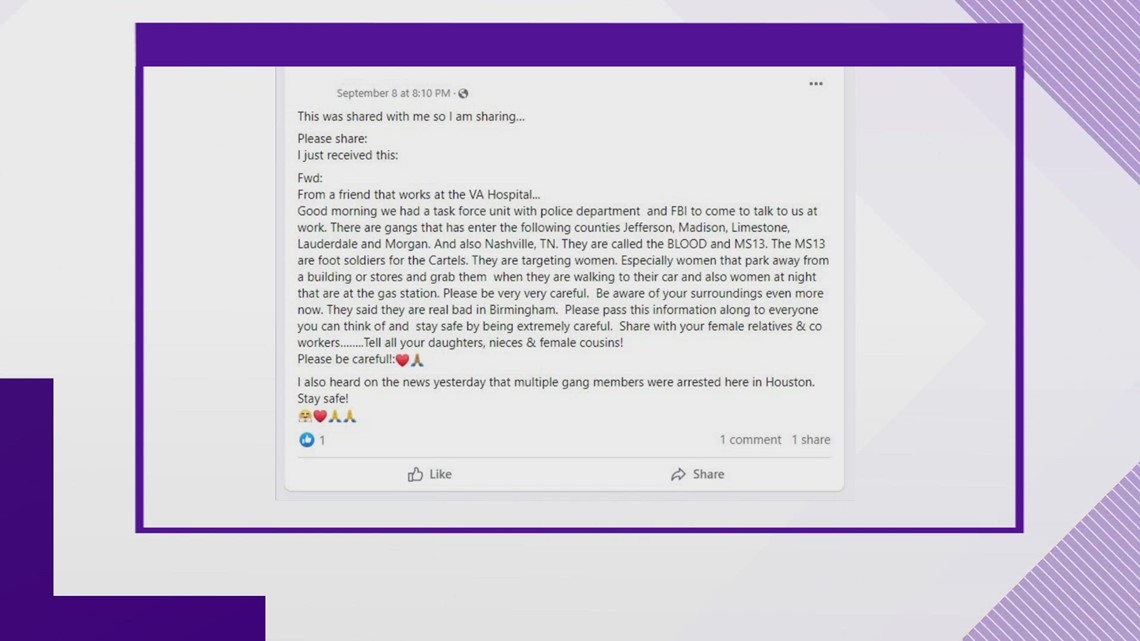 Sheriff Jeff Coffey in Jefferson County said he traced the origin of the post back to Alabama. In that state, there is another Jefferson County, and its county seat is Birmingham. Coffey also specified there was no current gang threat in Tennessee's Jefferson County.
WBIR also reached out to the Knox County Sheriff's office and received a response from Sheriff Tom Spangler.
"We get a lot of calls about posts people see on social media, some of which can be frightening," Spangler said. "The Knox County Sheriff's Office always encourages citizens to call and report anything suspicious, whether online or in person. We want people to feel safe in their homes, schools, and community. When reading something online, do your due diligence before falling victim to a potential scam or someone's scare tactics. As always, use good judgment, stay aware of your surroundings, and call 911 for all emergencies or non-emergency at 865-215-2243."
A spokesman for the Knoxville Police Department said the post's description of human trafficking did not exactly match up with usual cases.
"The majority of the victims of human trafficking are psychologically, emotionally or physically vulnerable, marginalized due to economic or social hardship, or intimately know the perpetrator, who then manipulates, coerces and exploits the victim through various means," spokesman Scott Erland said. "Human trafficking manifests itself in many nuanced ways, but it is extremely unlikely that an individual will be targeted and taken at random and find themselves in a human trafficking situation."
The bottom line is that the post is not legitimate, and there is no evidence of the threats it describes in East Tennessee.