KNOXVILLE, Tenn. — UT has made it official--- Neyland Stadium will be at full capacity for football games this fall.
Because of the COVID-19 pandemic, the crowd and gameday traditions were drastically reduced in the fall of 2020. Tailgating was limited, the Pride of the Southland band and cheerleaders weren't allowed on the field, there was no Vol Walk and no running through the T before the games.
All that will be back for 2021.
On Aug. 24, Bill Martin, the Assistant Athletics Director for Football Communications, said neither proof of vaccination nor a negative COVID-19 test will be required to enter Neyland Stadium.
"I know our fans are eager to experience the rich pageantry of Tennessee football gamedays again, and they're going to have an exciting brand of football to rally around," Vice Chancellor/Director of Athletics Danny White said. "This will be my first football season at Tennessee, and after witnessing the power of Vol Nation during our recent baseball postseason run, I cannot wait to see the impact of our fans giving their all in a packed Neyland Stadium."
UT Police also announced must stay on the sidewalks of Peyton Manning Pass this year when the team arrives, saying there's no touching or high-fiving of players allowed.
UT said it wants to ensure everything is able to flow smoothly on gameday.
"Have your stuff ready, game tickets, parking permits ready to go when you're at a parking lot or garage, have your permit ready and displayed to go so we can make things happen smooth and effectively," UT Associate Athletics Director David Elliott said.
It will also be the first season for new head coach Josh Heupel, who will make his debut in a Thursday primetime season opener against Bowling Green on Sept. 2. Kickoff is set for 8 p.m. on the SEC Network.
"We can't wait to experience the Vol Walk, running through the 'T' and everything that makes Neyland Stadium special," Heupel said. "I get goosebumps just thinking about what it will be like that Thursday night. The passion of Vol Nation is unmatched, and we are grateful for their support."
UT will be celebrating the 100th year of Neyland Stadium, which was first opened as Shields-Watkins Field in 1921. It will also be 125th year of Tennessee football. The Vols have won 849 games in that time, ranking them 10th in FBS history.
Season tickets are on sale now AllVols.com for as low as $300 with the VolPass, which allows fans to select their seats the week of every home game.
Ticket mini-plans for the 2021 season are on also on sale. Fans can customize their mini-plan by selecting any four games in a variety of sections for one price.
Home games include Bowling Green (Sept. 2), Pittsburgh (Sept. 11), Tennessee Tech (Sept. 18), South Carolina (Oct. 9), Ole Miss (Oct. 16), Georgia (Nov. 13), South Alabama (Nov. 20) and Vanderbilt (Nov. 27).
Original story- May 17, 2021
Vol fans can look forward to full capacity when Tennessee plays its first home football game Sept. 2 against Bowling Green, University of Tennessee Chancellor Donde Plowman told WBIR's "Inside Tennessee" Sunday.
Neyland, in fact, looks to be wide open for the full home schedule, Plowman said. That includes games against Pitt, Tennessee Tech, South Carolina, Ole Miss, Georgia, South Alabama and Vanderbilt.
'We are planning on full capacity at Neyland in the fall," Plowman said. "Barring some change in the public health status in this country, that's where we're headed for."
2021 marks the stadium's 100th year.
Plowman also talked about the yearlong efforts to battle and cope with COVID-19, campus initiatives including a strategic vision plan and improving campus diversity, among other issues.
Plowman said UT Knoxville needs more students of color.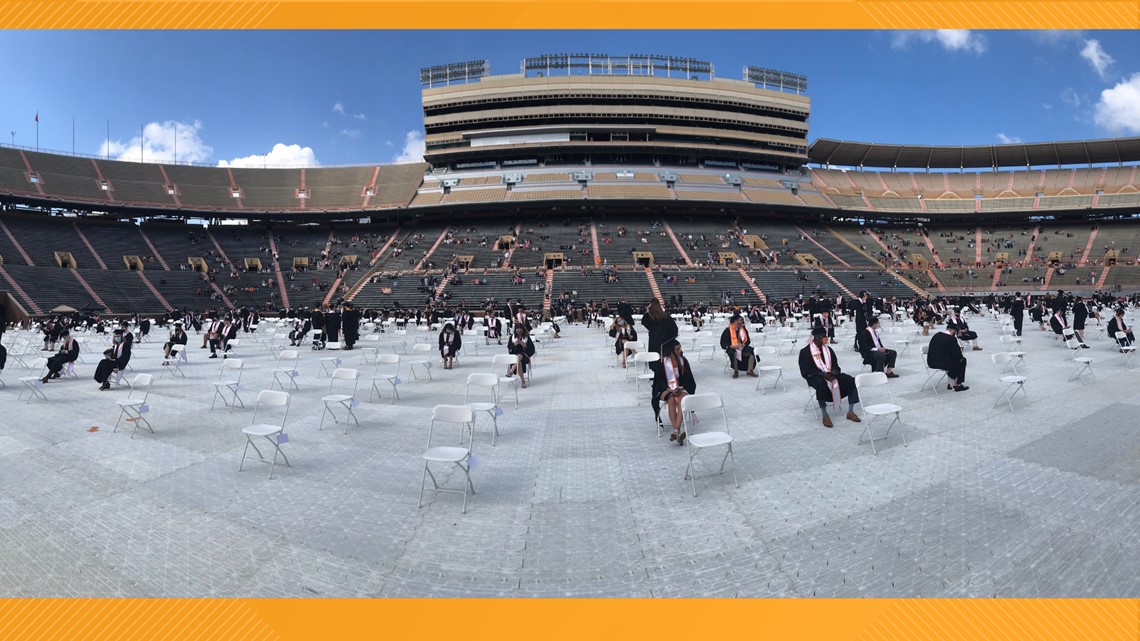 "We do not have enough Black students, brown students. We're nowhere close to the percentage of those groups in the population of Tennessee," she said.
UT also has lost Black faculty members in the last two or three years. It's working to boost those numbers.
Race is a tough topic to talk about, she said, noting the tumultuous year the nation has undergone.
"The truth is our students are willing to have those conversations, and I think the university is a great place to do that," said Plowman, who is approaching the two-year mark as chancellor.
While COVID-19 shots aren't mandatory for students at UTK or in the system, Plowman said they're strongly encouraged. Free shots are still available at the Student Health Center, and UT held numerous vaccine clinics at the Student Union for the public and campus community.
Student and employee case counts ballooned early in the fall semester. But by April they were low and falling week by week.
The chancellor said UT probably would use mobile vans to help boost shot distribution in the greater Knoxville community.